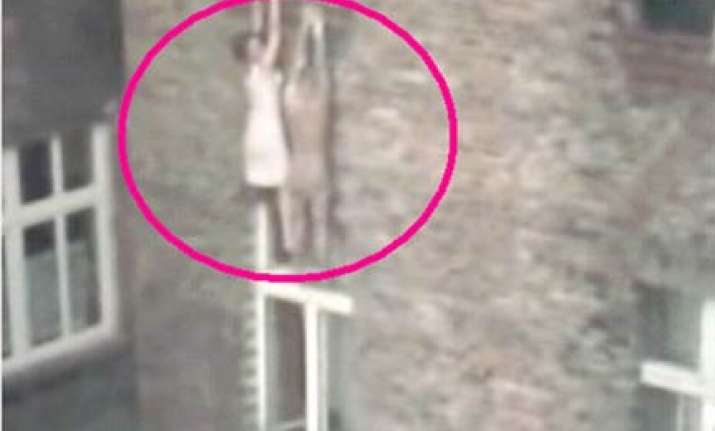 The dramatic footage of a rescue attempt in a June 9  multi-storeyed apartment fire in Poland is being circulated on the internet.The incident took place in Bytom, Poland. The dramatic footage features an unfortunately all too common occurrence in multiple story apartment fires.Fire and smoke will have only two major ways to vent in an apartment that is located between two other apartments vertically.  
Venting of heat and smoke will either escape from a door left open to the hallway or windows that have been left open or have failed as a result of heat loads.
This often traps the occupants within and forces them to make a decision to make a push through heat and heavy smoke for the hallway or make a break for where they know fresh air and potential egress is. The two occupants in this video make a move in the direction away from fire and in the direction the smoke is pushing them.
The Polish firefighters in this video, which was first posted by TheFireCritic, appear to respond rapidly and are able to elevate a ladder in position to make a rescue of the occupants.  
The ladder appears to be set at a very steep angle as a result of the ladder being too short for the required height. We do not know the circumstances surrounding the selection of the ladder, but it would appear it was the biggest ladder they could get in the shortest amount of time.The first firefighter making a rescue attempt is taken out by the one occupant as he falls to the ground. 
This has been captured in other videos online and is a result of not only the inability to hold on any longer but the inability for someone under such traumatic stress to be able to hold a second longer and wait until a firefighter is in position.
A second firefighter in the video makes a similar attempt but is knocked off the ladder even sooner than the previous firefighter. The important thing to remember for firefighters to remember from watching videos like this is to realize the true potential for falling civilians as another fireground hazard.
Watch Video