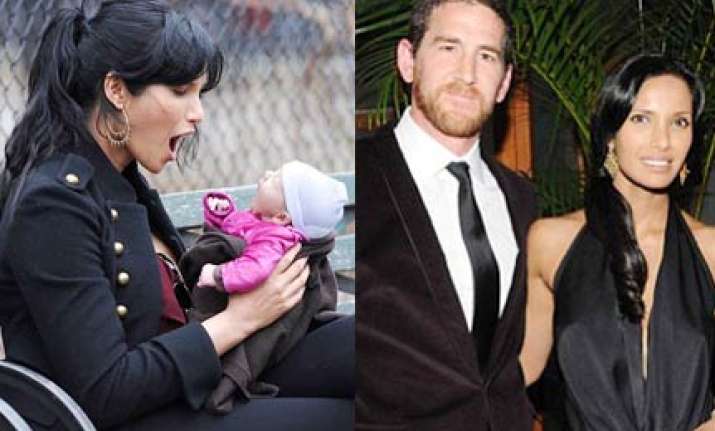 Former model, TV prsenter and writer Padma Lakshmi, who married Salman Rushdie in 2004 but divorced three years later, has revealed that the father of her baby girl in businessman Adam Dell, younger brother of Michael Dell, founder of Dell computers, reports The Mail, London.  
Adam Dell  a millionaire venture capitalist and the month-old girl has been named Krishna Thea.   
Krishan was seen out for the first time with her mum Padma Lakshmi, host of popular US TV show Top Chef.  Their outing in New York came as reports in the U.S. appeared to end speculation about who is Krishna's father.
Adam Dell and his ex-lover Padma Lakshmi are said to be negotiating visiting rights to Krishna.  A friend revealed that he dotes on his daughter and wants to see more of her. Another said: 'They are trying to work it out. They are trying to avoid anything messy.'
Adam Dell is a business and technology professor at Columbia Business School in New York and invests in technology companies. He is also a law professor in Texas.
He and Padma Lakshmi, 39, were first seen together two years ago.  After modelling she wrote a number of best-selling cookery books in the 1990s. She married Rushdie in 2004, but they divorced three years later.
Despite the difficult visitation dealings, Padma Lakshmi looked to be reveling in her new role as she cradled Krishna during their first outing in Manhattan.
She seemed oblivious to the rest of the world as she showered her daughter with kisses while they sat on a bench together.
In a bright pink coat and white hat, baby Krishna Thea yawned loudly as she struggled to keep her eyes open while her mother wrapped her closely to her in a baby blanket.
And it's not wonder Padma couldn't keep her eyes off her 'miracle' baby, after fearing that she may not be able to ever conceive having struggled for years with endometriosis.
Padma called her Krishna Thea Lakshmi after she said early in her pregnancy that she planned to give her child a 'classically Indian Sanskrit name.'
Padma Lakshmi became a model when she was discovered by an agent at the age of 16. She said she was the 'first Indian model to have a career in Paris, Milan and New York'.
Lakshmi married Rushdie, who dedicated his novel Fury to her, in 2004 after a five year courtship.