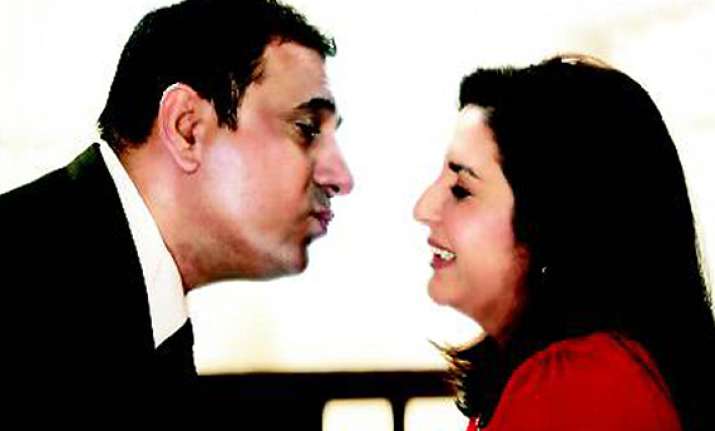 Mumbai, Jan 9: Bollywood choreographer and director Farah Khan, who celebrated her birthday on Monday, has done a romantic scene with Boman Irani for her acting debut film Shirin Farhad Ki Nikal Padi.
 
The two did an intimate scene for the film, but refused to kiss, because Farah said, her husband Shirish Kunder would not approve.
 
Says Farah: "Sorry there are no kisses in the film. I told Boman that my husband wouldn't like it and he understood. We work as a team.
 
"Who whould want to see middle-aged people kiss. Also, I would be very uncomfortable doing such scenes.
 
"What we do is try to kiss but it misfires for some reason or the other. It's romance handled in a funny way. "
 
Farah adds: " There are lots of such quirky and romantic situations, but before we started the film, Boman and I discussed it and thought we would do intimate scenes in a different and goofy way.
 
"Keeping our age, looks and comic timing in mind, we will treat those scenes in an aesthetic manner. "
 
Boman Irani plays a 45-year-old bachelor, while Farah plays a 40-year-old fiery Parsi phataka, and both are eccentric.

Boman had kissed Shabana Azmi before in Honeymoon Travels Pvt Ltd.
 
Says Boman : "It's a film and I am an actor. If there's a reason for the kiss, I will kiss. I am not some shy 16-year-old who will feel uncomfortable kissing".