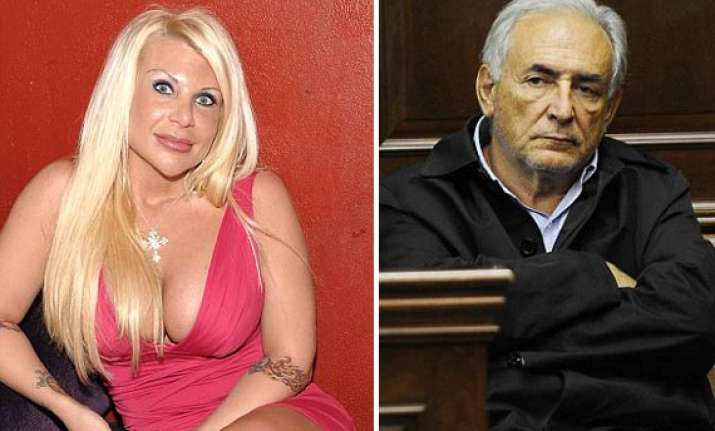 New York, May 20: Former IMF chief Dominique Strauss-Kahn paid for prostitutes, only for them to complain that he 'behaved like an animal', one of America's most infamous madams  has alleged, according to The Daily Mail.

Kristin Davis, who claims to have had dozens of celebrities among the 10,000 clients on her books, said Strauss-Kahn used her Wicked Models escort agency twice in 2006.
She told  Daily Mail that he was introduced to her by Irma Nici, a Bosnian prostitute who said he had been one of her clients in Paris.
Nici has previously made headlines by claiming she had had an affair with David Beckham – allegations that the footballer denied.

Strauss-Kahn was running for the French presidency and had not yet taken over the IMF when he allegedly used Wicked Models' services.

Davis, nicknamed 'the Manhattan Madam', said her records showed he first called her in January 2006 to request a fresh-faced 'all-American' girl, and paid $2,500 (£1,500) in cash for two hours with her in a hotel room.

But the girl came back complaining that he had been aggressive and she did not want to see him again.

Davis sent him a second escort, a Brazilian girl, in September 2006 when Strauss-Kahn was in New York for a conference hosted by Bill Clinton.

The second prostitute echoed the first girl's complaints and 'told me not to send any more girls to him', Davis said, adding: 'Strauss-Kahn was rough and aggressive. The girls said he was pushy, overly grabby and forceful.

He did not rape anyone. However, at $1,000 or more an hour, we expected the clients to behave like gentlemen, not animals.'
She said she had spoken out about Strauss-Kahn because of allegations that he violently attacked a New York hotel maid, claims he denies.

'I have spent three years protecting the men on my client list. However, I will no longer protect those that abuse women,' she said.

In 2008, Davis was jailed after admitting running a prostitution business, and served four months at the Rikers Island prison where Strauss-Kahn has been held. After release she claimed to have quit the sex industry and ran for office in New York but failed to be elected.