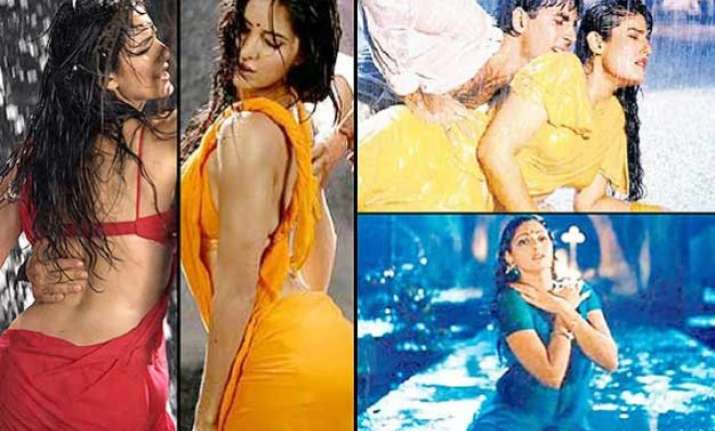 You have heard them, enjoy them to their fullest and you still crave to listen more! Bollywood erotic songs have always been people's favourite and while these songs are the sure short guarantee of the film being taking a high flight in the audience's wit, a few of them leaves an unforgettable image on to your minds.

So whenever you see that wet white saree or a grooving drenched actress on screen, you immediately reckons your favourite site of that 'wet song.'

Looking extremely gorgeous draped in that six yard wonder, surely our B'town divas leaves no loophole in enticing you to the core. The charm of their beauty comes filtered when they seduce the man of their life clad in that sexy saree.

From Smita Patil, Zeenat Aman, Raveen Tandon to Katrina Kaif, you have seen them all but never had enough of their sensuous charisma on screen.

So here again, get ready to have a visual delight of tinsel town ladies draped in sexy sarees grooving to a few of the most erotic songs of Bollywood! Here's the list!

   


I Love You - Mr. India

Officially titled as the hottest song of gorgeous Sridevi, i Love You from Mr. India is one that song whose lyrics too seem erotic even when hummed alone.

Clad in a blue wet saree, Sridevi creates wonder with her intriguing steam avatar opposite Anil Kapoor.

                     


Gale Lag Ja - De Dana Dan

And how can one resist watching Katrina Kaif in a wet saree grooving all around spilling the charm of her sassy figure.

This song has remained the highlight of Akshay-Kat on screen chemistry so far and while the song in itself is mesmerizingly sexy, it became a sensation with Katrina's beauty when it hit the screens.