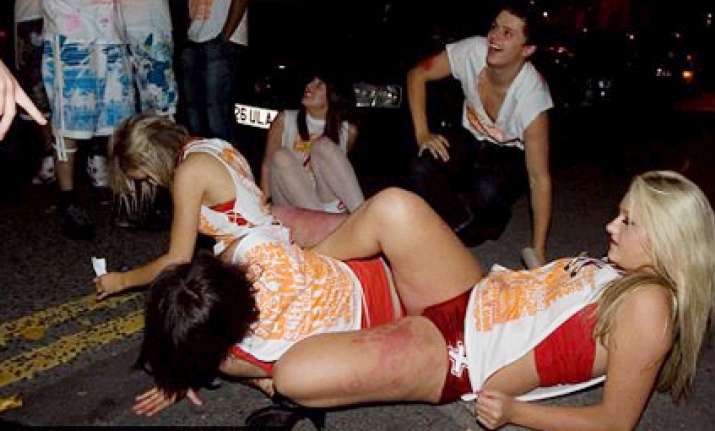 Nearly 2,000 university students took part in an organized seven-hour mass pub crawl in Sheffield, UK, during which scenes of debauchery were seen, reports The Mail, London. A drunken young man Philip Laing urinated in full public view over a  First World War memorial in Baker's Pool, soaking wreaths of poppies laid in tribute to those who gave their lives for freedom.
Before urinating on Sheffield's war memorial, Laing was in such a shocking state that he curled up for a sleep in front of a shop window. Scantily-clad girls collapsed on the street while young men ran amongst passing traffic, oblivious to the dangers.
19-year-old Philip Laing is a sports technology student in Sheffield Hallam University.
19-year-old Martin Murray dangerously ran through passing traffic in Sheffield. Other revellers seemed oblivious, but the incident was reported to security staff who washed down the memorial with water.
The 'Carnage UK' bender was organised by a company which held a simultaneous event on Sunday night in Cardiff, involving around 3,000 students.
18-year-old Adam O'Shea were seen lying on the ground in an inebriated state.
A scantily-clad girl collapsed on the street. Participants who paid £10 each got an official T-shirt and access to a series of clubs and bars, though they bought their own drinks. They were invited to wear 'doctors and nurses' fancy dress.
The memorial's desecration was condemned by Russ Murray of the Royal British Legion.
He said: 'Whether he has done it intentionally or not realised because of drink, it is outrageous.  There are people of his age who are currently serving in Afghanistan. This is a war memorial and stands for the sacrifices people have given in the past and continue to do so today.'
Laing on Thursday issued an apology through his university.
Laing said: 'I am deeply ashamed of this photograph and I am sincerely sorry for my behaviour.  I didn't realise how much alcohol I had consumed that night and also hadn't eaten since lunchtime. I have no recollection of the events in the photograph, although I recognise that this does not excuse my actions. I apologise unreservedly for any offence I may have caused.'
Carnage UK is run by Birmingham-based Varsity Leisure Group Ltd, which operates similar events for students across the country.  The company, headed by Paul Bahia, 29, said: 'VLG has the greatest respect and admiration for all those who lost their lives in the defence of this country. It is appalled and saddened by anyone treating a monument to commemorate those people in a disrespectful manner.'
The company, headed by managing director Paul Bahia, 29, has faced criticism from student groups for being 'irresponsible' and there have been calls for such events to be banned.
The website warns students that 'ID will be required at all venues' and states that 'Carnage encourages responsible drinking'. Free soft drinks and discounted food is available to revellers, while guidelines advise those taking part to 'drink in moderation and do not binge'.
It also insists the venues do not offer cut-price drinks promotions and unpaid stewards are on hand to 'supervise' and monitor drinkers going from one venue to another.
A statement from the Varsity Leisure Group said: 'VLG has the greatest respect and admiration for all those who lost their lives in the defence of this country. It is appalled and saddened by anyone treating a monument to commemorate those people in a disrespectful manner.'