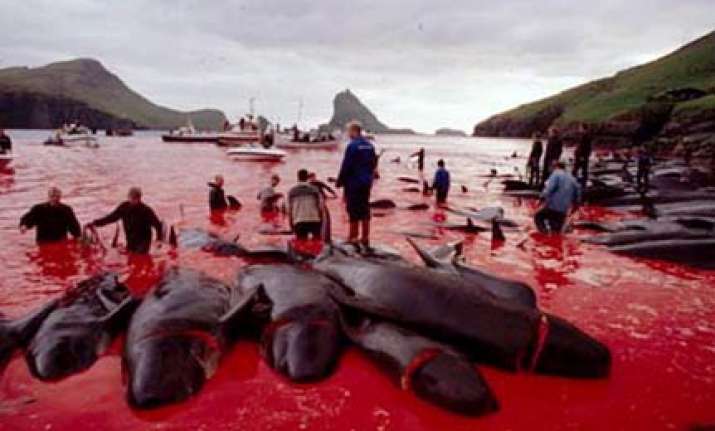 The Faroe Islands in Denmark is the place where youths celebrate an annual bloodbath killing pilot whales (known as Calderon dolphins) in a bay of blood  to celebrate their entry into adulthood. A horrible practice, indeed!
Faroe Islands is an autonomous protectorate of Denmark, meaning they operate under some Danish laws and Defence.
 
Youths living in the Faroe Islands mark their passage into adulthood by hacking the flesh of gentle living dolphins until the sea turns red with blood as they die thrashing about in agony. Then the humans  cannibalize their cetacean sisters and brothers.

 
Danish officials point out that the Faroe Islands are an automous region within the Kingdom of Denmark and their fisheries and maritime affairs are not under Danish control. 
 
The Faroese department of Fisheries and Maritime Affairs explains :  "Pilot whales are taken for food in the Faroe Islands. Both the meat and blubber of pilot whales have long been and continue to be a staple part of the national diet. Catches of whales are shared largely without the exchange of money among the participants in a hunt and residents of the local district where they are landed. ... An annual catch of 950 whales (the average annual catch over the past ten years, 1990-1999) is roughly equivalent to 500 tons of meat and blubber, some 30% of all meat produced locally in the Faroes".
The pilot whale hunt presents a dramatic and bloody sight. Entire schools of whales are killed on the shore and in the shallows of bays with knives which are used to sever the major blood supply to the brain.
Dolphin meat can be a "staple" of the Faroese diet so much so that dolphin-killers give it away to every islander whether they want it or not, so that it can then be called "part of the national diet".
Experts however warn consumers not to eat it, due to the presence in it of mercury, PCBs and DDT (see New Scientist, 28 Nov. 2008).
If you have questions about this bloodbath, the Prime Minister of Denmark is Lars Loekke Rasmussen, Address: Tinganes, PO Box 64, FO- 110 Torshavn. (or: info@tinganes.fo) The address of the Faroese department of Fisheries and Maritime Affairs is fisk@fisk.fo.