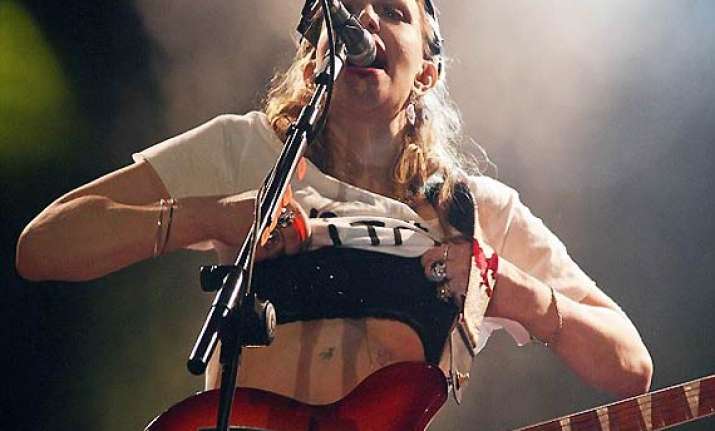 Sao Paulo, Nov 14: Controversial singer Courtney Love  stripped off on stage during a concert at the Sao Paulo music and arts festival  on Sunday night, Daily Mail reported.

The 47-year-old singer seemed typically unselfconscious as she first stripped off her white T-shirt, revealing a glittering black crop top.

The revealing black crop top was the next to go before the singer carried on with her number with no top on at all.




She even pointed to her chest mid way through the number in front of the audience.

The singer started out as conservatively enough in a white T-shirt with what looked like hand written letters reading 'Courtney be my...'

She smiled broadly as she played guitar on stage alongside a menagerie of female rockers.

The singer wore a headscarf and her hair appeared to be a darker shade of its usual platinum blonde.

According to Radar, the singer 'literally pulled down her tube top, one side at a time, as the audience cheered.'

She showed off an array of tattoos and toned arms as she strummed her guitar.

The singer was spotted last weekend arriving in the Brazilian city looking typically dishevelled in a mismatched monochrome outfit.

Sunday's behaviour is the latest in a string of outrageous antics from the star.




She is alleged to have appeared 'naked' in front of a New York Times interviewer last year, and later apologised for the incident.

Courtney also famously flashed David Letterman during an appearance on the Late Show back in 2004.

The widow of Nirvana front man Kurt Cobain made the headlines again recently when her  daughter Frances Bean was reported to have become engaged to musician, Isaiah Silva, from the band The Rambles.




The couple reportedly changed their Facebook status' to engaged a couple of weeks ago, changing it back just hours later.

But the 19-year-old doesn't have the most amicable relationship with her mother.

In December 2009, it was reported that a judge had issued a related temporary restraining order, prohibiting Courtney from having any direct or indirect contact with her daughter.




The star recently discussed how much she missed Frances.

She told Vanity Fair: 'All I can feel is how much I love her.

'I'd give anything to hear the sound of her heels walking down the hall past my bedroom.'