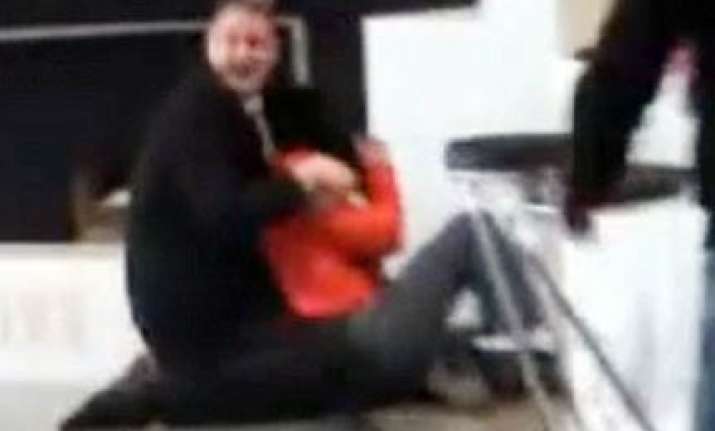 A gang of masked gunmen armed with AK-47 rifles burst into a poker tournament in Berlin in broad daylight on Saturday and stole more than £700,000 in cash. The attackers entered the Grand Hyatt Hotel, snatched a portion of the prize money and fled.
Gamblers were injured as they ran from the busy conference hall fearing for their lives. The robbers wore black balaclavas and were armed with Kalashnikov assault rifles, machetes and hand grenades.
The heist was reminiscent of a scene from gangster movie Ocean's Eleven and was captured live on television.
Within hours, clips had been posted on YouTube. In the footage, players are seen studying their cards before the game is suddenly disrupted by the sound of glass smashing and people shrieking.
The players and a croupier are seen looking round to discover pandemonium, with hundreds of players and staff running for the exit. They quickly follow suit, abandoning their cards and chips on the table.
A source told The Mail on Sunday: 'The gang had balaclavas, machine guns, hand grenades and machetes.
'They made off with at least £700,000. Thank God everyone's OK, apart from the injuries sustained when fleeing. The tournament continues tomorrow – with armed police.'
Police spokesman Carsten Mueller said four robbers in disguises forced employees to hand over money before escaping.
He said: 'Several people at the tournament were slightly injured when they panicked and fled.'
He added that four of the raiders entered the hotel at 2.15pm from Potsdamer Platz, one of the German capital's most popular squares, while two others kept watch.
The European Poker Tour, the biggest game ever held in Germany, had begun a few days earlier.
YouTube shows the gang bursting into the hotel, with security guards running for cover. One guard manages to capture one of the attackers and pins him on the floor in a head-lock.
However, in different footage captured on a handheld camera, the guard is forced to let the attacker loose when another of the gang threatens him with his machete.
Witness Claudia Sommerey said: 'I hid under a table as four men with rifles burst into the room.'
About 400 poker players are competing for the €1million jackpot in the five-day tournament.
German tennis star Boris Becker was among the participants but had been eliminated before the robbery and had already left the building.