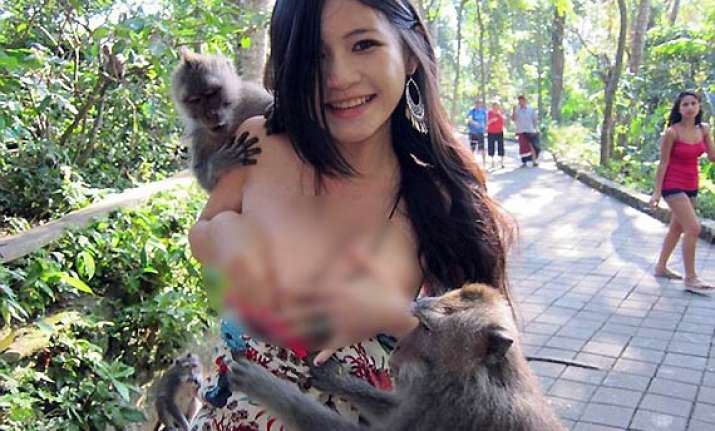 Jakarta, Nov 29: A 22-year-old student  Charmian Chen, who also works as a model, was visiting the Sacred Monkey Forest Ubud in bali last month, when two monkey  began pulling down her dress, The Daily Mail reported.

Charmian Chen from Taiwan was on holiday on the tropical Indonesian island feeding long-tailed macaques when she was singled out.

The two macaques apparently spotted a piece of corn that had fallen down  Chen's top and decided they wanted it back.




Despite her valiant effors to fend it off, one monkey managed to pull down her top leaving the red-faced model to cover herself as best she could, with her hands.

But what should have been an amusing holiday wardrobe malfunction has ended up catapulting  Chen to internet superstardom.

Pictures of the incident have made headline news in her native Taiwan, with TV stations asking her to appear and talk about it.

The images have also spread around the globe, appearing on blog sites and forums in the U.S. and Britain.




She said: 'I was on holiday and at first the pictures were just funny, but when I got back to Taiwan I had all these people trying to add me as friends on Facebook.

'I thought "that's a bit strange", and then one of them said they'd seen the pictures and I was really surprised, the next thing I knew I had TV stations ringing me.

'I was on vacation then in Bali so I didn't mind it, but back in Taiwan I was still studying so I didn't want to become famous just for my boobs.

'But actually it has been fun, people do come up to me and say "you're the monkey girl" and it does make me laugh.'




Chen said the macaques, as well as being hungry, were also attracted to bikinis worn by many visitors.

She added: 'I think when they took my top down it was because of the corn but the park staff warn visitors that bright bikinis worn under dresses do attract the monkeys.

'I think it's the bright colours which they think might be fruit, well I don't know about that but it was very strange at the time.'