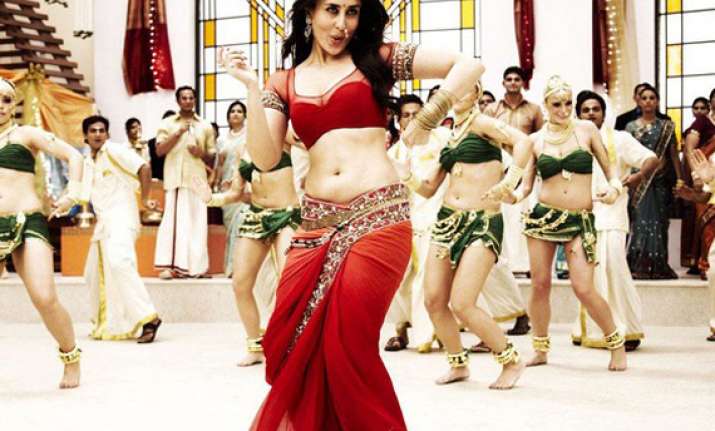 Mumbai, Oct 22: Bollywood actor Kareena Kapoor says her Chammak Challo number in RA.One is not an item number and it should not be compared with Munni or Sheila.


In an interview to Bombay times, Kareena said : "I am nobody to decide that (its popularity). Chammak Challo is not an item number. It is neither projected nor publicised that way. I am the heroine of the film and the song is a part of it. It can't be compared to Munni or Sheila. However, the response is surprising. It has become like an anthem. I have never done a song like this. When I signed the film, Shah Rukh had promised two songs on which I can keep performing throughout the year. He has kept his word."

Kareena says she is curvier now and her fans like her this way.

Kareena said she doesn't think size zero was a mistake. "Size zero had its own charm. I wanted to do something nobody had done before. Everyone will remember the size zero phase of Kareena Kapoor's life. Today, I am curvier and I think my fans like me that way. Even Saif prefers me like this. I think I am looking like a Hindi film heroine now."




Kareena is happy that her career has now entered a fascinating phase.

"Everything I had ever wanted or wished for has suddenly materialised. After 3 Idiots, Bodyguard and now RA.One, I am in a happy space. If RA.One goes on to break all records at the box office, I will be happier. The film has the capacity to achieve that."

Kareena's wax statue at Madame Tussaud's will be unveiled on October 27. "It is yet to sink in. I think the timing is perfect since RA.One releases a day before and hopefully it will break all records. Saif will be busy shooting in Rajasthan, so mom will come with me for the ceremony."




On her tussle with Katrina for the number one slot in Bollywood, Katrina said : "I have always let my films do the talking. I don't care if people slot me at number 100 as long as Bodyguard goes on to make Rs 150 crore and 3 Idiots garners Rs 300 crore. I hope RA.One gets bigger numbers and Agent Vinod breaks records."

Kareena refuted media reports that she and Saif are going to marry in February.

"People have fixed my wedding for February. Can you imagine? The date, the menu and the costumes are fixed - only Saif and I don't know about it. I assure you that nothing has been decided yet. We haven't had the time. Saif and I won't lie about it. Whenever we decide, we shall announce the same. People should just stop speculating."

Kareena said she was interested to work in the sequel to Once Upon A Time In Mumbaai.




"I have'nt met Milan Luthria yet. I haven't read the script either. I am eager to work on the film since I loved the first. As far as working with anyone is concerned, I have always been relaxed about it. I am happy if my role is good."

About elder sister Karisma, the actor says: "To me, Karisma is the eternal diva. I have learnt everything from her - the dance, the expressions. She is somebody I look up to. I hope she does more films now. I have seen the rushes of Dangerous Ishq, her comeback film and she looks spectacular. She is like a 19-year-old. She can never be a competition to me. I will always be behind her."