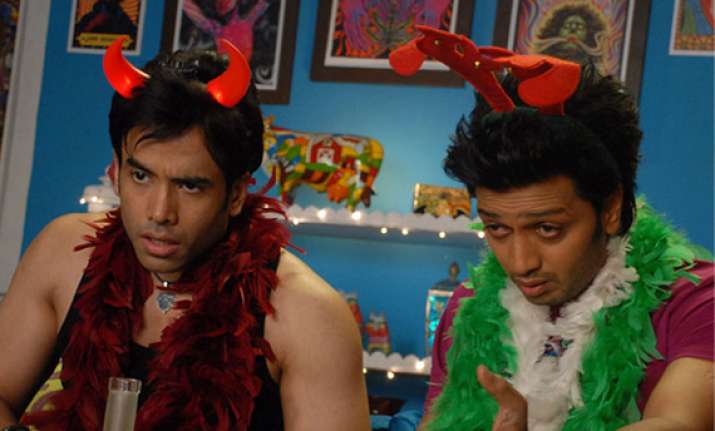 Mumbai, Apr 2:  The sequel of Tusshar Kapoor-Riteish Deshmukh starrer film Kya Super Kool Hain Hum is scheduled to be released in August, but the very first raunchy look of the film got the Censor Board worried, says a media report.
"When the trailer of the film was submitted to the Censors, they gave it an 'A' certificate. Which means the trailer could be released only online. This didn't go down well with Ekta. She wanted a 'U/A' certificate for it.
"So she ordered the team to work on the trailer and change it accordingly. But, still the Censors were bent on giving an 'A'. This back and forth went on for quite a while.
"And after rejecting the trailer for 19 times, they finally relented and gave it a U/A certificate. So, now the trailer can be released with movies and in TV," an insider from Ekta's production house reveals.
The source further adds, "The Censor Board had problems especially with the dialogues of the film. They found the dialogues extremely bold, with double meanings and underlying sexual connotations.
"So, they refused to give it a U/A certificate which miffed Ekta. And only after Ekta herself sat down and overlooked the changes for 19 times, the Censors gave it a U/A certificate.
"But apparently she is not too thrilled with the whole incident, as she believes that the original trailer was more powerful and justified her film."
Tanuj Garg, CEO of Balaji Motion pictures confirms, "Yes, the CBFC requested a few dialogue cuts for the trailer to receive a U/A. We complied. The U/A version will be seen nationwide with Housefull 2 while the A version is essentially for web consumption only."