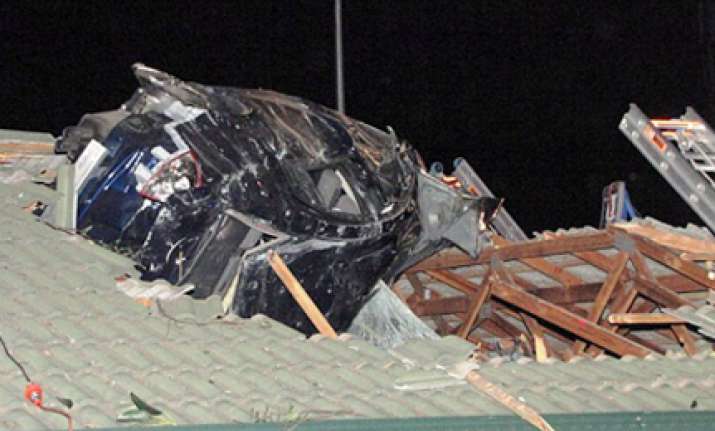 Two men in a car raced away in Blacktown, a suburb of Sydney, Australia, sailed through the air after hitting a ramp-shaped mound of earth and smashed into the roof of a bungalow, reports The Mail, London. The two young men were extricated and taken to hospital where they were reported to be stable. 
Peter and Kay Arnold, a couple staying in the bungalow with their three-month-old daughter Zoe, ran out of the house when the crash took place. They ran out into the street fearing for their lives. 
The couple could not believe their eyes when they saw the offending car 'parked' on their roof. It had smashed into the tiles and got embedded there. 
It was sheer luck that the car did not crash through the ceiling into the bedroom, otherwise the Arnold couple along with their baby would have been harmed. 
'The crash frightened the life out of us', Arnold told neighbours who came out of their homes in the morning. 'It's not the kind of sight you expect to find when you are called  out to a traffic accident', a police officer said.
Police suspect, speed and alcohol could have caused the crash. The car veered across to the wrong side of the road, crashed through a traffic light pole and ran across a pavement before hitting the mound of dirt sending it airborne.
It went soaring over a wooden fence, smashed through  the branches of a tree, before finally ploughing into the house.
One of the passengers managed to free himself from the wreckage, but remained trapped in the roof. The other man was unable to get out.
Ambulance, police and fire rescue teams worked on freeing them for an hour, before they were lowered to the ground and taken to hospital.
Inspector Adrian Grech, of suburban Blacktown police told News Ltd:  'To have an accident which starts 90m away and actually gets a vehicle airborne, there would have been substantial speed involved.'