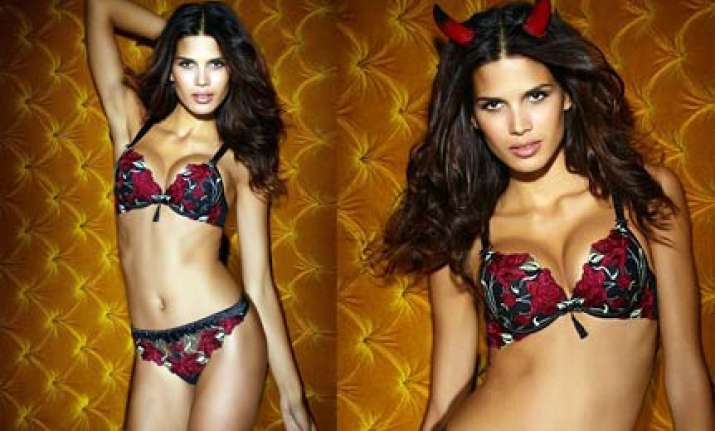 Ultimo have unveiled their next face of the brand, the stunning Brazilian model Raica Oliveira replacing English model Kelly Brook, reports Daily Mail.
26-year-old Raica posed  in a series of seductive outfits in a new promotional campaign for the underwear line.
She had previously modelled for companies including Dior, Dolce & Gabanna and Yves Saint Laurent.
Raica had dated footballer Cristiano Ronaldo in 2006.
Raica has however drawn the line at ever posing nude.
She said recently: 'I could not pose nude. Nothing against those who do, but I never felt right about it. It's not something that would make me proud.'
It was announced earlier this year that Brook would be leaving UItimo just months after agreeing a six-figure deal with the brand.
After being signed up by the label, Brook said: 'Most people are losing their lingerie campaigns at 30, not getting new ones.'
She also praised the quality of the products she was modelling, saying: 'A good bra is so important for ensuring you get the right support. it's unbelievable how few women get measured on a regular basis. Also if you're a bigger cup like me, you need the correct support.'
A source close to Brook said at the time: 'Ultimo are not happy that Kelly has left because they knew that she was the perfect signing. She is girl next door, pretty with a figure to die for and she looks great in their lingerie.'
A spokesman for Brook then confirmed that she is no longer working with the lingerie company, adding: 'The decision to leave was by mutual agreement.'
As well as following in Brook's footsteps, Raica is also facing competition from previous Ultimo models including former Spice Girl Mel Brown, supermodel Helena Christensen, Rod Stewart's ex Rachel hunter and his current wife, Penny Lancaster.