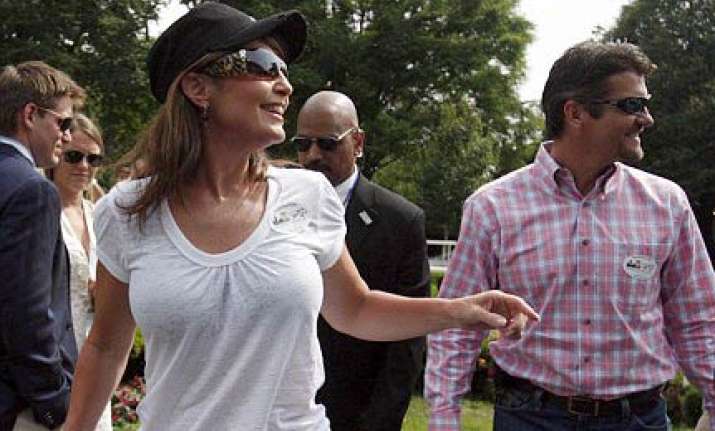 Internet forums are rife with rumours after the former Governor of Alaska stepped out in a tight-fitting white T-shirt.
In photographs of Sarah Palin, 46, at the Belmon Stakes race in New York last week, the mother-of-five looked bustier than she does in images last year, reports The Daily Mail, London.
Before and after: Sarah Palin in 2008 and, right, the image of the former vice presidential candidate that has sparked internet rumours of a boob job
The former vice presidential candidate was there to watch her racehorse, First Dude, compete.
Wonkette was the first to speculate whether Mrs Palin has gone under the knife, under the heading: Did Sarah Palin buy herself a couple of luxury items?
It said: 'We can report with confidence that at least two people with experience in having breasts say that Sarah Palin sure looks like she was trotting out some new work at the horse races on Sunday.'
Implants?: Sarah Palin, 46, in a tight-fitting T-shirt at the Belmon Stakes race in New York last week
While Jessica Coen claims on Jezebel that Mrs Palin could be looking swell due to her choice in clothes rather than an enlargement operation.
She said: 'Goofy/immature euphemisms aside, whether or not Palin gave herself a new set of breasts isn't really our concern—and even if it were, we couldn't definitively make a call on the matter, given the everyday miracles performed by push-up and T-shirt bras.'
And Gawker agrees: 'Sarah usually favors structured, bust-hiding jackets (probably to avoid this very situation) so it's possible that we're just not used to seeing her clingy shirts. If her chest has increased in size since '08, my best guess is that it's no more than a single-cup amplification.'