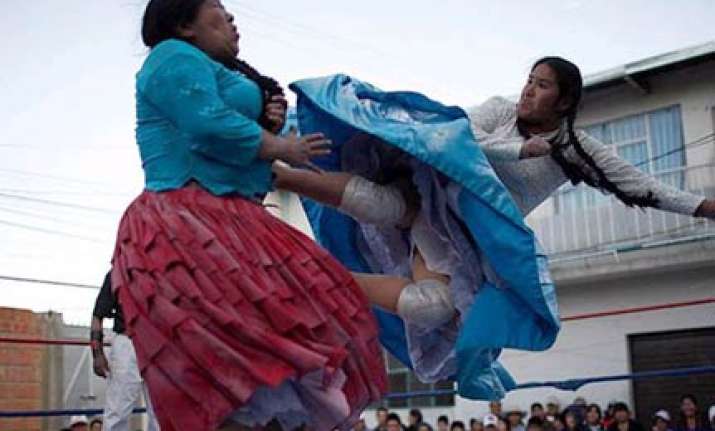 Bolivia's Fighting Cholitas are a group of female lucha libre wrestlers who perform in El Alto, Bolivia. The Cholitas were the subject of an award-winning 2006 short-subject documentary, The Fighting Cholitas.
The Cholitas are part of a group called the Titans of the Ring, which includes both male and female wrestlers. The Titans perform each Sunday for an audience of hundreds at El Alto's Multifunctional Center; tickets to the exhibitions cost $1.
The idea of including female wrestlers as a maneuver for publicity came from Juan Mamami, a wrestler and president of the Titans. They routinely attract over a thousand spectators to their bouts in El Alto and several hundred spectators when they travel with the Titans to smaller towns. 
Two hefty mums battle it out in a makeshift wrestling ring outside their homes. Carmen Rosa, blood pouring from her eye, grasps the rope as her opponent grabs her.
The lardy pair were taking part in one of the female wrestling bouts that attract large crowds in La Paz, Bolivia. Fighters, known as Cholitas, wear skirts as they batter each other.
Carmen, 40, said: "We show that women are tough too." Then she hit her husband with a crate to prove it.
Wrestlers warming up in El Alto, Bolivia, near La Paz. Indigenous women, dressed in their traditional garb, are the stars of the increasingly popular bouts, Bolivia's version of the World Wrestling Federation.     
In the town of El Alto, Bolivia, there's proof that professional wrestling is one of the world's most universal forms of entertainment.
That's where four unlikely women became some of the nation's more popular grapplers in the last decade. And these aren't lithe, conventionally athletic types; these tough cholitas are indigenous women of humble means, flaunting their heritage in the ring by wrestling in traditional braids, bowler hats and thick skirts.
Their bold attempt to break away from established management is the focus of Betty M. Park's sympathetic, uneven documentary.At the center of the action is Carmen Rosa, "The Champion," a bulky broad with guts to spare. 
After she and the girls gain exposure beyond their small local arena, Rosa fights to book and manage her own events, away from a controlling "who me?" promoter named Don Juan Mamani. 
The girls' often futile efforts play out like a real WWE storyline, but with real-world consequences.
Mamachas' storytelling is at its best when Park keeps a grip on the petty politics and tension, but the first-time feature filmmaker's initial setup is too loose. 
She has the ambition to introduce each of the four women Scorsese-style, freeze-framing them mid-performance to display their nicknames, but we don't get any deeper than that.   When the women run into conflict among themselves soon after, it's tough to tell who's who and what's what.  
Once Rosa emerges as the activist, Mamachas takes hold. 
At first, Rosa's long-worrying husband is by her side at matches, promotions, a TV show; when times get tough, highlighted by an illegal border-crossing into Peru, he's not as present, but Rosa can't give up the fight.
She's like a quiet, South American Lenny Bruce, clinging almost obsessively to her love of the game as her quest for independence from "the man" evolves, the road becoming bumpier and lonelier.   
Park tries to spice up the tale with claymation re-enactments and fantasy sequences from artist Christophe Lopez-Huici.  The scenes are amusing -- especially when the girls imagine ganging up on Mamani -- but the effort feels forced, kitschy instead of clever. 
(This is the third time hand-created animation has popped up in recent live-action films: see Michael Cera entries Paper Heart and Youth in Revolt). 
At times, the film's pathos almost feels interrupted by the primitive claymation, done in a style not mature enough to match its real-life complement.    
At just 75 minutes, Mamachas is affecting work, with a range of emotions experienced in a compressed time period. 
This isn't some manufactured "I am woman, hear me roar" success story, and that sad reality allows Park to build a dramatic arc that commands attention.  
When the women rig a car with sound equipment to announce an upcoming show and distribute flyers -- Blues Brothers style! -- Park is at the height of her skills, celebrating the promise of future matches and showing the smiling, excited faces of Bolivia. Unfortunately for Carmen Rosa, Park gets to counter that exuberance with time, as the athlete's satisfaction remains elusive. 
Videos: One,
Two,
Three,
Four