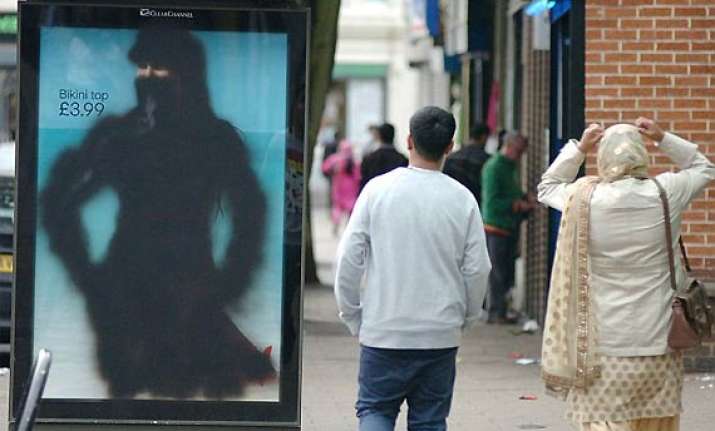 London, May 20: Muslims in Normanton, Derbyshire have carefully sprayed black paint over a  poster advertising a bikini by making it a burkha, reports The Daily Mail.

The model acquired the full-length veil in a poster displayed on the side of a bus stop in Normanton.

The advert, featuring a £3.99 bikini on sale at H&M, was vandalised with black graffiti, leaving only the eyes of the female model uncovered.

The poster has been causing controversy across the country, with black spray paint being daubed over the scantily-clad model in Muslim areas of Birmingham and London.

Similar adverts in Balsall Heath, Birmingham, and Tower Hamlets, London, have been blacked out - reportedly by outraged Muslims or feminists.


However, this is the first time a full length Burka has been carefully painted over the model.

This is not the first time H&M advertisements have been modified. The store's new campaign, starring the supermodel Giselle, has been digitally altered to cater for ads running in Dubai. Despite revealing only arms and a hint of cleavage, the images were all subjected to Photoshopping with a t-shirt or vest added under the clothes.

One enhanced shot shows a white vest under a jumpsuit, leaving the arms bare and another adds short sleeves to a hatlerneck top.

Gulfraz Nawaz, from the Jamia Mosque, close to the defaced advert in Derby, said: 'Some people of the Muslim community could find an advert like that offensive and react to it, which clearly someone has.

'Firms behind advertising campaigns like that should be a little more sensitive about the location of posters.'

Azher Rehan, 36, who works close to where the poster is displayed, said: 'I wouldn't have noticed it if it hadn't been pointed out. I think whoever did it has a good sense of humour.'

A spokeswoman for Derbyshire police said officers were aware of the incident of 'criminal damage'.

A spokeswoman for H&M said it was 'regrettable' that people had chosen to vandalise the bus shelter.

She said: 'This is not something that H&M commonly encounters. With our campaigns we want to surprise and inspire our customers, not upset them.'