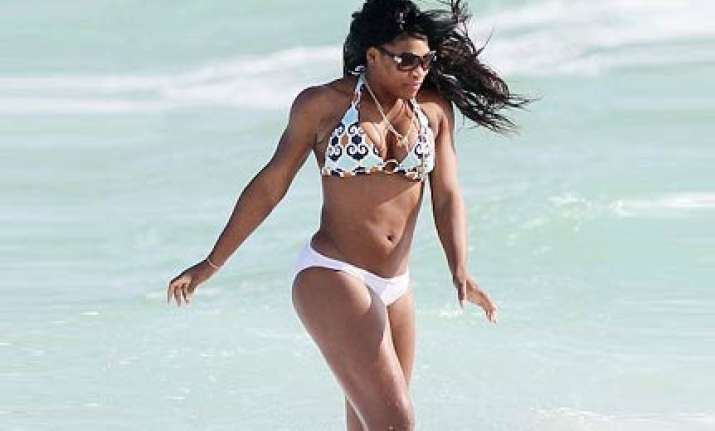 In a scene reminiscent of Baywatch, tennis star Serena Williams ran along Miami Beach, sea lapping around her feet, as she confidently showed off her new bikini body, reports The Daily Mail, London.
The tennis ace was looking in incredible shape, 18 months after she paraded a far beefier figure along the same stretch of coastline in an ill-fitting bikini.
In these new pictures, Serena is toned, slimmer and her dimply thighs are no more. She also appears less muscular, perhaps the result of toned down training due to her recent foot injury. The top-seeded tennis star was joined on the beach by her on-off boyfriend, rapper Common.
The pair basked around in glorious weather, with Serena nibbling on food and sipping on a drink.
Later she took to the waters, braving the chilly sea, and made a splash in her mismatched bikini.  Serena, who recently celebrated her 29th birthday, has been turning heads recently as she showcased a new glamorous look.
She was seen at various runway shows at New York Fashion Week recently where she mingled with the likes of American Vogue editor Anna Wintour.
A few months back, at a party in the Hamptons, she also sparked rumours that she had undergone surgery on her nose.
Due to her foot injury, she missed playing at the recent U.S. Open, which was won by Belgian Kim Clijsters.
She withdrew to give herself time to recover from surgery to repair cuts on her right foot, which she reportedly sustained by standing on broken glass in a restaurant in Munich.
Speaking at the Hamptons party earlier in the summer, where she set tongues wagging about her nose, Serena revealed she was devastated to be wearing a leg brace for the event - because it was letting down her look.
She said: 'When I get injured, it's devastating because I know I won't be able to wear heels. I'm practically in tears.'
But Serena added she is using the down time  to complete numerous projects while not on the court.
'I can actually use the recovery time. I'm so active trying to produce television shows now and writing. It's good for me to just have some time off. I'm sleeping a lot, which is good, and I'm being babied.'