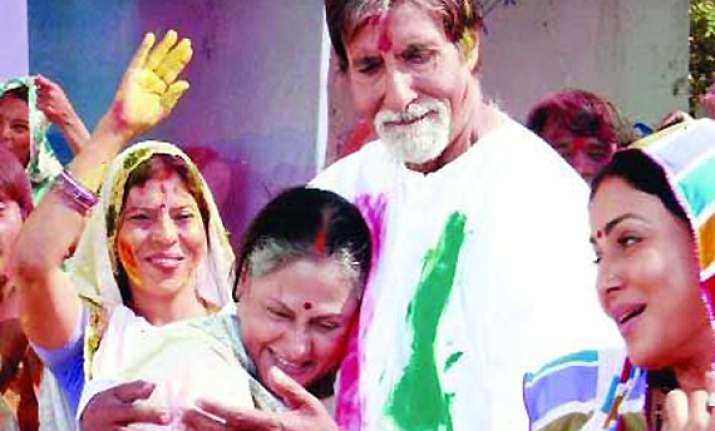 Mumbai. March 3 : Bollywood megastar Amitabh Bachchan and wife Jaya will pair up after 20 years for a colourful sequence in Amitabh's make up man's  Bhojpuri film Gangadevi.

The two were last  seen together in a Holi song in Silsila.

The real-life couple will be lip syncing to Man Hoke Patang in the under production Bhojpuri film Gangadevi, being produced by Big B's make up man Deepak Sawant.

The song,which is an integral part of the film, was shot prior to Big B's hospitalisation and surgery.

The last Holi sequence Amitabh Bachchan was seen in, was Holi Khele Raghuveera in Baghban, along with Hema Malini. Sawant has great hopes from this song.

Says Sawant: "Whenever Amitji and Jayaji have teamed up for a Holi song, the result has been phenomenal.

"Whether it was Holi Ke Din Dil Mil Jate Hain in Sholay or the iconic Rang Barse in Silsila, it had created wonders.

"Though both of them celebrate Holi every year in real life, onscreen they are doing it after a long time. "There was great excitement when the song was being shot.

"I wanted the song to be sung by Amitji, but since he was not in town at the time, it has been sung by Sudesh Bhonsale. "

"Amitji had completed the shoot of the film before fixing the date for his operation, though he was suffering even then. He did not want to delay my film."