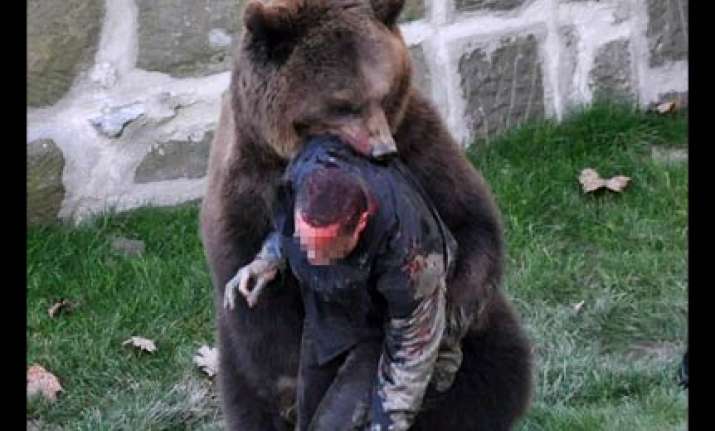 A 25-year-old unnamed man climbed on to a wall surrounding the Baren Park (Bear Park) in Bern, Switzerland on Sunday and fell 13 ft into the enclosure.
The man, who had learning difficulties, was then attacked by four-year-old bear Finn, who caused severe injuries to his head and one of his legs, before a nearby policeman shot the bear injuring it and forcing it to retreat into a cave, reports The Daily Mail, London.
The bear Finn's 10-year-old sister Bjoerk was in the 6,000 sq. meter enclosure but she was not involved in the attack, police said.
Both the man and Finn are currently being treated for their respective injuries - the bear at the park and the man at a nearby hospital.
The Bear Park was opened on October 25th, and provides both Finn and Bjoerk with hill slopes, grasslands, a cave and access to the nearby Aare River.
Prior to the Bear Park, bears were kept in traditional Bärengraben (Bear Pits), which became a top tourist attraction in the city of Bern.
However, after the death of 28-year-old Pedro, the last remaining bear from the pits, in May, it was decided the new bears should be given somewhere more habitable in which to live.
Bern is famous for its love of bears, stemming from the founder of the town Berchtold van Zähringen shooting a bear upon his arrival in Bern in 1160.
The city name translates as 'bear', while the creature also became the town's coat of arms emblem.
Bern also has many traditions revolving around the bear - from presenting cubs born during the winter to the public in a special Easter ceremony to starting their annual Bernese carnival with a 'freeing of the bear' opening, involving a lifelike figure of a bear being released from one of the city gates.
Only one of Bern's bear traditions has changed, the feeding of the animals.
After Finn and Bjoerk were transferred into their new home from Bern's Daehlhoelzli Zoo, officials decided the public would no longer be able to feed the bears due to health and safety issues.