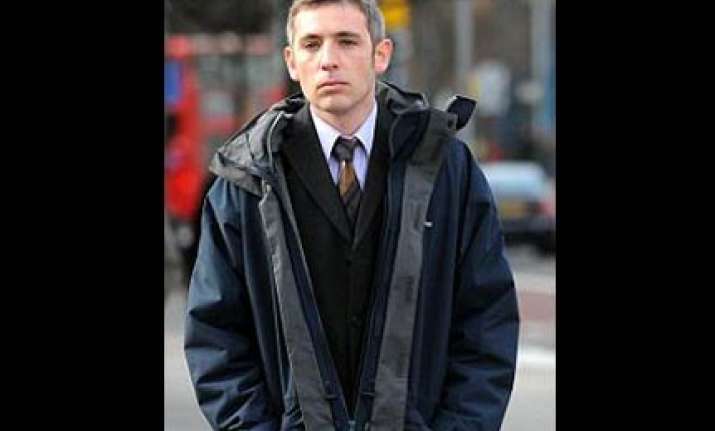 A womanising BBC producer who secretly filmed himself having sex with a series of well-known TV and radio presenters was jailed for eight months on Thursday, reports The Mail, London.
Benjamin Wilkins used a camera hidden in a smoke alarm to tape his sexual encounters with a succession of women that he lured back to his flat.
He was caught when his girlfriend - and mother of his child - discovered a box of DVDs hidden in his loft and called the police.
Judge Roger Chapple told the 37-year-old he had 'betrayed' the trust of his victims.
The judge said the effect on the women who had been filmed had to be considered when sentencing Wilkins.
He added: 'No doubt they were wrestling with any number of emotions when they discovered what you had done, one of them being outrage.
'What you did represents a cruel, selfish betrayal of the trust they put in you.'
Wilkins was also ordered to sign the sex offenders register for 10 years.
Many of the women Wilkins seduced hold senior positions in television and radio – both presenting and in production roles – but cannot be named for legal reasons.
The court heard he hid one camera in his bathroom and another in the fire alarm directly above the bed in the bedroom of his London flat.
They were linked up to his computer hard drive which allowed him to transfer the films to DVD.
The films were made over a three-year period from 2005 but Wilkins dismantled the system before his girlfriend, with whom he had a son, moved into the home.
It was when she was moving her belongings into the loft that she found the discs and recognised one of the names on them as an ex-girlfriend of Wilkins.
After she watched the DVD, she sent it to the woman involved and they decided to go to the police.
A victim impact statement made by one of the women was read to the court.
The woman, who cannot be identified, said she had needed counselling after she found out what he had done.
She stated she was too ashamed to tell her family what had happened and said it left her 'feeling violated, dirty and sick'.
Nicola Kay, defending Wilkins, said he had not distributed the discs which were recorded 'purely for Mr Wilkins own gratification' and all the sexual encounters had been consensual.
The judge read from a letter Wilkins wrote to his victims in which he admitted 'a terrible betrayal of trust'.
Wilkins pleaded guilty to 11 charges of voyeurism at Camberwell Magistrates' Court earlier this year.
Wilkins has worked for several years as a producer at BBC London.
In 2004 he won an internal BBC award, the Frank Gillard prize, naming him as local radio reporter of the year. He resigned from his post following his arrest in August 2008.
He has since sold his Brixton flat for £270,000 and is living with his mother Val McCrimmon in Kingston, South-West London.
A BBC insider said: 'He wasn't any more of a lady's man than any mid-30s man in a newsroom environment.
'He was affable and charming, but never stood out as a womaniser. He was an upstanding, competent reporter, always courteous, never disrespectful.
'Everyone was completely shocked when they heard the allegations.
'He had a lot to look forward to career-wise – he had a good voice, and was a good broadcaster.
'He would have had a great career at the BBC and he's flushed it all down the toilet.'
Wilkins, who also lectured in journalism at the London College of Communication, met the mother of his child while she was studying at the college.