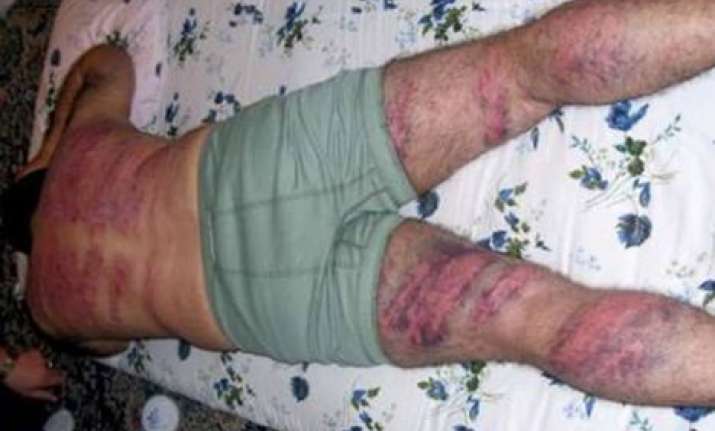 An unmarried foreign couple who admitted having sex in the United Arab Emirates have been ordered to receive 100 lashes by a sharia court, reports Daily Mail, London.
The pair - a Filipina maid and her Bangladeshi boyfriend - were also ordered to be deported after the harsh punishment meted out just 20 miles from Dubai in Sharjah.
Police arrested the couple after a house owner reported how she saw the man, only identified as S.M., leave the home.
Both the maid - identified in court documents as N.M. - and her lover then admitted to unlawful sex and were handed the harsh punishment because they are both Muslims.
They admitted to having sex several times at the house owned by the maid's sponsor, the employer who previously backed her to stay in the country.
The man is believed to have already undergone his punishment, sustaining horrendous welts on his back and legs.
But the man's ordeal may not yet be over - it was reported that the man may face a year in prison for illegally entering the sponsor's home.
According to Sharia law if Muslims commit adultery they will be lashed and deported if they are expatriates, but non-Muslims will only be jailed and deported.
The case is reminiscent of  that of two British people deported for having sex on a Dubai beach in 2008.
Vince Acors, from Bromley in Kent, travelled to Dubai for what was planned as a three-day business trip.
While there he joined a group of friends at one of the city's infamous all-you-can drink brunches.
Four hours of eating and drinking later, he moved on to a nightclub where he met fellow Briton Michelle Palmer who was working in Dubai as a publishing saleswoman.
Later the same evening the couple were arrested after being discovered semi-naked on a sun lounger on the city's Jumeirah beach, near to the iconic Burj Dubai hotel.
They were found guilty of having sex in public, acting indecently and being drunk in public, but an appeal court suspended their three month prison sentence and instead ordered they be deported.
The UAE has attempted to establish itself as centre for western business with a supposedly liberal approach to foreigners, however, many still fall foul of strict sharia laws.