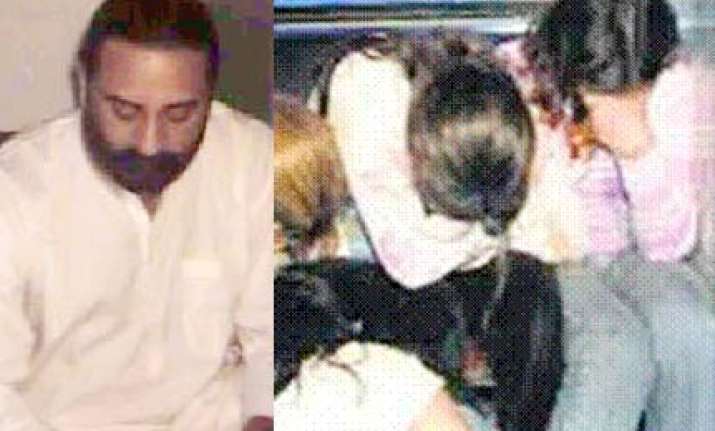 The murkier Mumbai connections of Baba Bhimanand are coming to the fore with South Delhi deputy commissioner of police HGS Dhaliwal claiming that Bhimanand once worked as a music director and composer in Bollywood, say media reports.  

Ichhadhari Sant Swami Bhimanandji Maharaj Chitrakoot Wale is his name on the passport  which he acquired after filing an affidavit to change his name, first from Shiv Murat Dwivedi to Baba Bhimananad, and from there to the above long-winding name.  

The baba had launched an escorts service website to widen his trade, and had planned to make enough money during the Commonwealth Games through sex trade and then flee the country, police sources said.  

As the baba's police remand ends on March 15, Delhi police is planning to take him again to his home town Chitrakoot for further probe into his assets, as only Rs 1.25 lakhs have so far been found in the Baba's accounts. The rest of the money through hawala, police believe, has been put in the accounts of several front organizations.  

 

Police officers engaged in the probe say, the Baba had an eye of models and struggling starlets in Bollywood whom he used to push into the sex trade while promising them bountiful of money. There were several girls in the Baba's group who looked similar in appearance to some of Mumbai's leading models and starlets, and they were being provided to customers as 'original', police sources said.  

Baba Bhimanand's contacts with other leading Delhi pimps Sonu Punjaban, Laila, Bobby, Sonu Gupta, Aman and Rithika are being probed, police sources said.  

Meanwhile, in the police barracks of Delhi's Saket police station, the Baba has a grueling daily schedule. He wakes up at 5 in the morning, and after his morning ablutions, performs yoga and meditation, after a bath and breakfast, he is subjected to interrogation. Baba Bhimanand often starts weeping during the interrogation, police sources said.  

The interrogation continues in different phases till late in the night till the Baba goes to sleep. The Baba, police said, had recruited such a large number of girls in his racket, then when he was confronted with the names and cellphone numbers of several girls, the Baba said, he could not remember them, police said.  

The baba is more worried about the end of his trade, as he had planned to flee India after making a big killing during the Commonwealth Games from tourists.