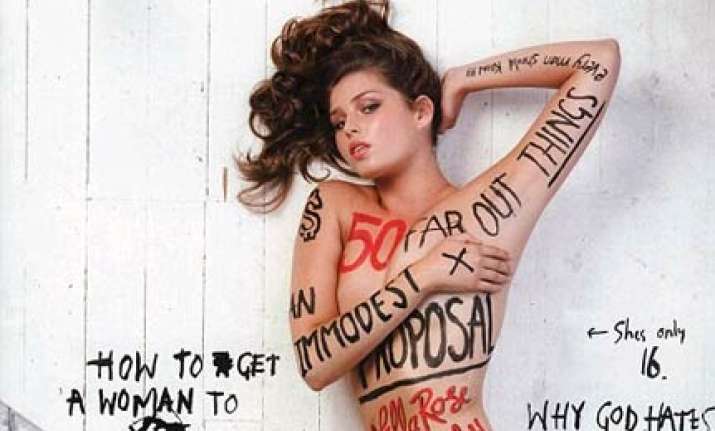 16-year-old schoolgirl Ella Rose Corby posed nude for the cover of a surfing magazine Stab in Australia, but she is now being bullied by her peers, her modelling agency claims, reports The Mail, London
Corby became a controversial cover girl after winning Stab magazine's search for a model contest. The raunchy magazine is known for its edginess, celebration of partying and sex, but has been slammed for using a naked teenage girl to sell its product.
Even though Ella's modesty is preserved by a crossed leg, with one arm covering  her breasts, the photo shoot has attracted a wide range of criticism.
Local MP Justine Elliot, a mother herself, said: 'I think photographs like  these are inappropriate, particularly when the young woman is only 16.'
Stab writer Michael Jennings says in his article about Ella how a girl that age  represents a danger to the adult male: 'They are moving into womanhood and they  know it.   'They dress older, sneak into clubs and are easily mistaken for adults...You  can leer at the 16-year-old as you would an adult woman, so long as you're  ignorant.  Once you become aware of their age, you must look away.'
The prize included being represented by Sydney-based modelling agency Chic Management.
But Chic spokeswoman Kathy Ward said Ella's family were upset by the photos. She added: 'She is encountering some bullying from other girls of her age. I think the family are a bit overwhelmed at the moment, they really are. The  mum's in a bit of shock.'
Ward said Ella was concerned about the adverse publicity affecting her  career aspirations to become a top model.  Ward, who has been involved with Chic since its establishment in 1993,  slammed the nude shoot, saying it was 'totally inappropriate' and, had the agency been representing Ella at the time, it would never have allowed her to pose nude.
'From Chic's point of view, the shoot that Ella participated in was totally  inappropriate … we would never allow such a shoot to progress if we knew that  that was the creative brief,' she said.
The magazine dealt directly with the family, which did not have any  professional representation at the time, Ward added. Ella told the magazine in an interview the revealing poses were the beginning  of a dream for her.
According to the magazine journalist, when Corby's mother found out about  the shoot, she 'freaked out.'  But Ella's father said it was the kind of thing  Ella would have to get used to if she wanted to be a model.  The Corby couple was  answering the phone at their home in the up-market  seaside town of Kingscliff, which is south of Tweed Heads on the north coast of  New South Wales, close to where the ITV reality show 'I'm A Celebrity, Get Me  Out Of Here!' is filmed.