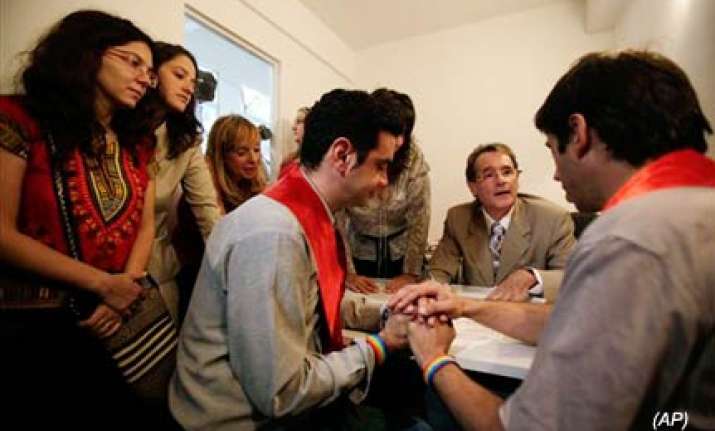 Two men were granted a marriage licence in Buenos Aires on Monday, breaking ground in a country and region where gay marriage remains illegal. 
41-year-old Jose Maria Di Bello and his partner, 39-year-old Alex Freyre, won the right to get married when a judge ruled last week that ban on gay marriage violates Argentina's constitution.
"On December 1st we will become husband and husband," said Di Bello, after a city clerk gave the paperwork to him and his partner Alex Freyre.
Buenos Aires Mayor Mauricio Macri said the city will not appeal - in effect inviting many other same-sex couples to pursue their rights in court as well.
Freyre, the executive director of the Buenos Aires AIDS Foundation and Di Bello, an executive with the Argentine Red Cross, sued after being denied a licence in April.
Their request was granted last week by Judge Gabriela Seijas, who said laws limiting marriage to "a man and a woman" violate constitutional rights of equality.
Argentina's Congress is considering changing dozens of articles in the civil code to enable same-sex marriage.  The proposal has support among ruling party lawmakers but Cristina Fernandez has yet to take a stand.
The Roman Catholic Church and other Christian groups are opposed; currently no country in Latin America allows gay marriage.  The judge's ruling sets no precedent beyond this case, but other gays and lesbians can cite it and hope for positive results in court if their requests for marriage licenses are denied.
Buenos Aires in 2002 became the first city in Latin America to allow same-sex civil unions.  Uruguay later legalised civil unions nationwide.
The men - both HIV positive - plan to marry on World AIDS Day at the same civil registry in the capital's Palermo neighbourhood.  They told AP that marriage - and not just a civil union - is important to them because they want a shared health insurance policy and inheritance rights, among other things married couples now enjoy.  AP