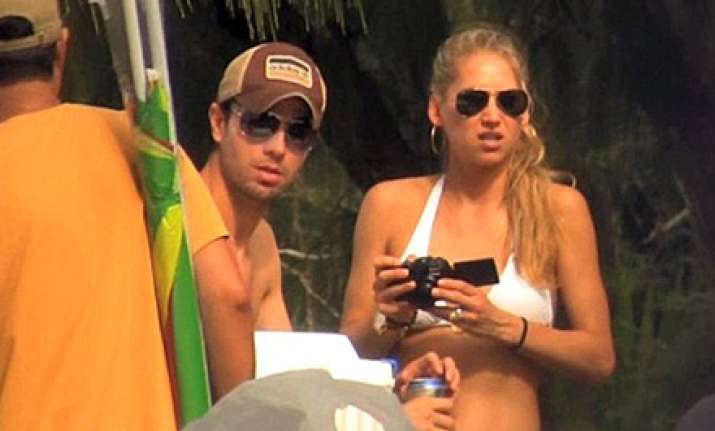 Singer Enrique Iglesias is on holiday with one of the world's most beautiful women in a tropical paradise.But he didn't exactly look like he was having the best of times in  Hawaii with his girlfriend Anna Kournikova, reports Daily Mail.
The 35-year-old Spanish-born singer  looked glum as he sat in the sunshine with the former tennis ace, who looked stunning in a white bikini. The couple ate a barbecue on the beach and sipped bottles of water.
Kournikova, 29, showed off a trim and toned figure in her bikini which she teamed with a hooped earrings and a pair of aviator sunglasses.The couple have been together since 2002 after meeting on the set of Iglesias's music video for his song Escape.
They have recently had to deny rumours of a split after the singer left for Europe to do a lengthy promotion tour of his latest album. 'They are definitely together,' a representative for Iglesias saiid last week.
'Enrique has been out of the country on a promotional tour, so maybe that's where the speculation is coming from.Back in June, Kournikova told Graham Norton that the couple have no plans to marry.
'Not really, no. We're fine,' she told the talk show host when asked if they would be tying the knot.  'What's the point if you're happy anyway?
'Being eight years down the line it's more than some married couples now.'