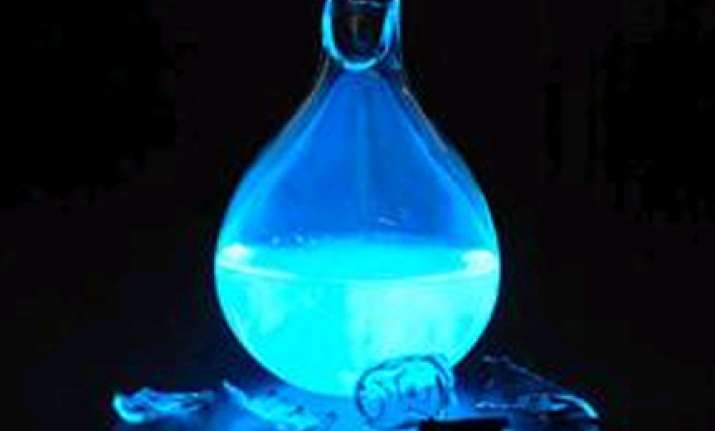 Mike Thimpson, an English designer based in Holland, has designed a lamp that contains a chemical called luminol that reacts with the iron in blood, and creates a bright blue glow, says a report.
The idea behind the 'blood lamp' is that if anybody wanted to switch on a light, he has to first mix in an activating power, then break the glass, cut himself and drip blood into the opening.
The lamp contains luminol – the same chemical forensic scientists use to check for traces of blood at a crime scence. Luminol reacts with the iron in red blood cells and creates a bright blue glow.
Thompson came up with the rather gruesome idea, reported by New Scientist recently, a few years ago while he was studying for his masters at the Design Academy Eindhoven in the Netherlands. He was researching chemical energy for a project and came across luminol.
"It kind of triggered this thought in my mind, that if energy somehow came at a cost to us, then maybe it would make us think differently about the way we use it," Thompson told LiveScience. The lamp is intended to "challenge people's preconceived notions about where our energy comes from," he said, and it forces the user "to rethink how wasteful they are with energy, and how precious it is."
And the fact that it is a single-use light makes its application all the more meaningful.
"You have to really decide when to use this lamp because it's only going to work once," Thompson said. "So it makes it kind of a poignant moment."
Thompson designed and produced the lamp in 2007, and made a video of his project this year.