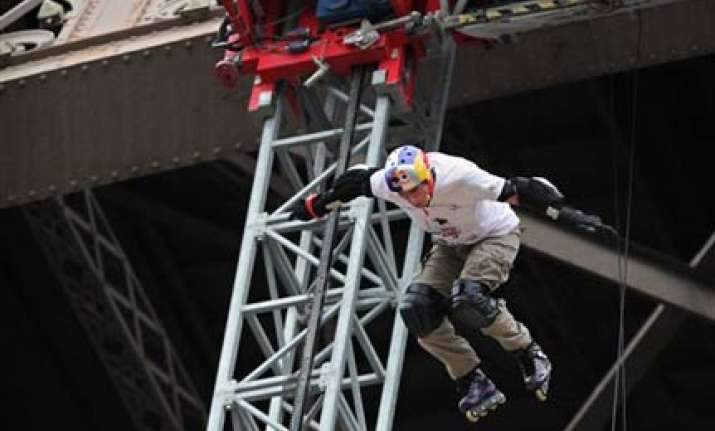 Huge crowds gathered under the Eiffel Tower in Paris on Sunday  to watch a world champion extreme sportsman attempt to jump off the famous landmark with inline skates on, reports The Daily Mail, London.
Thousands of nervous bystanders lined the avenues around the famous monument to watch Frenchman Taig Khris perform the dangerous feat.
The 34-year-old was attempting a new Guinness world record for the longest freefall from a structure onto a landing ramp.
He made his death-defying leap from the 131ft high first floor of the tower onto a giant sized quarter pipe ramp built below.
He fluffed his first attempt after losing his footing and sliding down at speed into a giant air bag. However undaunted he was went back for a second try.
This time he landed cleanly and raised his arms in celebration and the crowd yelped and cheered. He dropped a record 39ft, beating the 28ft fall set by American Danny Way.
'I've never had such a strong adrenaline rush,' Mr Khris said.
He said his jump was 'to give people the desire to reach beyond their limits, to follow their passions, their dreams.'