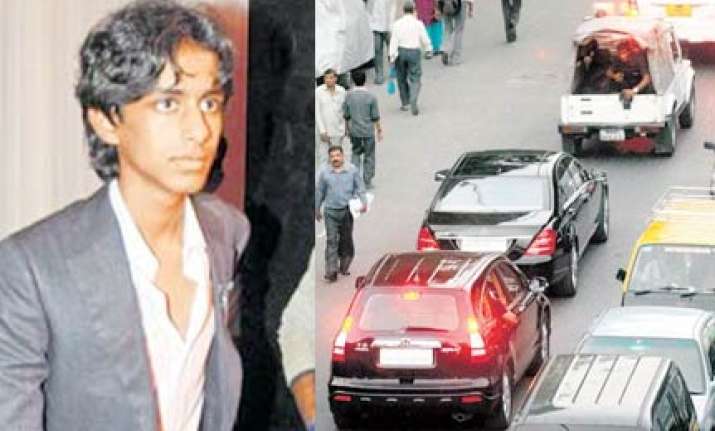 Passersby on Lower Parel stopped to watch, as sirens wailed and  the black Mercedes with five cars in tow and a police van ahead slid under the flyover outside High Street Phoenix on Senapati Bapat Marg on Wednesday. The black Mercedes car  was carrying none other than Lalit Modi's son Ruchir, reports Mid Day.
Lalit Modi's son Ruchir emerged attired in a white shirt and blue blazer. At once, a security guard handed him a pair of sunglasses.  
"Who is that?" asked an onlooker.  "Koi badey baap ka beta hoga," someone among the crowd of onlookers retorted.
The unknown face with a security cordon was hardly recognisable to the common man. This is what happens to the scion of a man who is most talked about right now.
After fresh threats to Lalit Modi before this IPL season, he and his family have been provided optimum security.  Sources said there were four cops of the protection force in the Gypsy.
Besides the police guards, there were 12 other security personnel in the cars tailing the Mercedes in which Modi's son was seated.
About the number of guards or the category of security provided, Deputy Commissioner of Police Sanjay Shintre of the Protection Branch said, "We have provided them optimum security." A senior police official told MiD DAY that the family had been provided security following threats received before IPL 3.
Sources from the Protection Branch said about eight protection guards had been deployed for the family's security. In addition, the family has also been given a posse of private security guards from actor Ronit Roy's private security agency.
Roy's firm has also been providing security at IPL party venues. While confirming to MiD DAY about the security cover, Roy refused to divulge details about the number of guards.
The Modis have temporarily shifted out of their Juhu bungalow and have put up at a five-star hotel in Worli. Lalit Modi did not respond to Mid Day correspondent's text message.