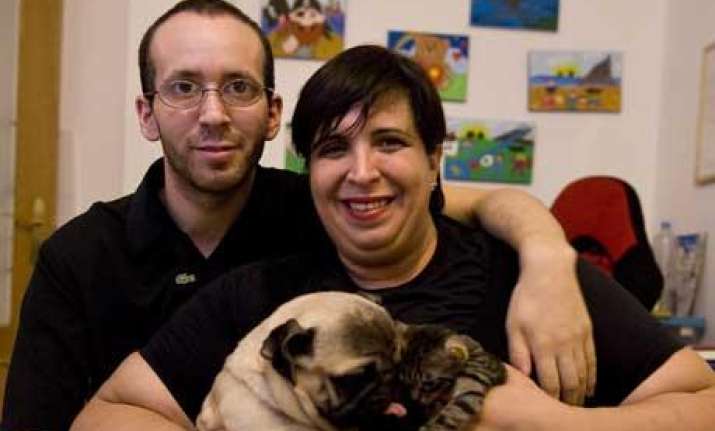 26-year-old Ruben Noe Coronado Jimenez of Spain, who became the first 'man' in the world to become pregnant with twins has sought a new round of IVF treatment, reports The Telegraph, London.
 
A Spaniard who became the first "man" in the world to become pregnant with twins has spoken of his determination to try again after suffering a miscarriage.

Coronado sparked a debate in Spain about the ethical use of reproductive technology, when he revealed earlier this year that he was carrying twins following IVF treatment.
The babies were due to be born this month but Coronado, from Jaen in Andalucia, suffered a miscarriage in May during the 18th week of pregnancy.
Coronado was born female but at the age of 18 decided to have gender reassignment and surgery to remove his breasts.
His female reproductive system remained intact and he interrupted hormone treatments and postponed plans to have a full sex-change operation in order to get pregnant because his 43-year-old girlfriend, Esperanza Ruiz, could no longer have children.
Now the pair have said they are trying for a new baby with the help of the same fertility clinic in Barcelona that treated them first time round.
"We were devastated at losing our twins," said Mr Coronado. "Esperanza was desperate to be a mum and I was looking forward to being a dad.
"It took us many weeks to get over our loss, but we're determined to try again for a new baby."
The couple are following in the footsteps of Thomas Beatie, a transsexual man in Oregon, USA, who made headlines across the world when he was pictured pregnant with his first child, Susan, who was born in July 2008.
The Spanish couple, who met in 2003, said they spent years trying to find doctors who would treat them. After emailing the 158 fertility clinics in Spain, Coronado found one in Barcelona willing to help him prepare his atrophied uterus for insemination by donated sperm.
He said doctors told him the loss of his twins during his first pregnancy had nothing to do with treatment he had received to change his gender.
"It was a problem which sometimes happens in any pregnancy," he said. "And not related to my testosterone injections as I had stopped having them and their effects were no longer in my body."
After being told to wait several months the couple will now embark on IVF treatment using sperm from an anonymous donor bought over the internet.
"We don't know who the sperm donor is, so he will have no involvement in the baby's upbringing. I will be the father, and Esperanza will be the mother.
"After the baby is born, I will then have full gender change surgery, to make me a whole man.
"I do plan to have a penis made eventually, but first we want to have a child,
"I want to help change people's prejudices, so more transsexual men can give birth in future," he added.