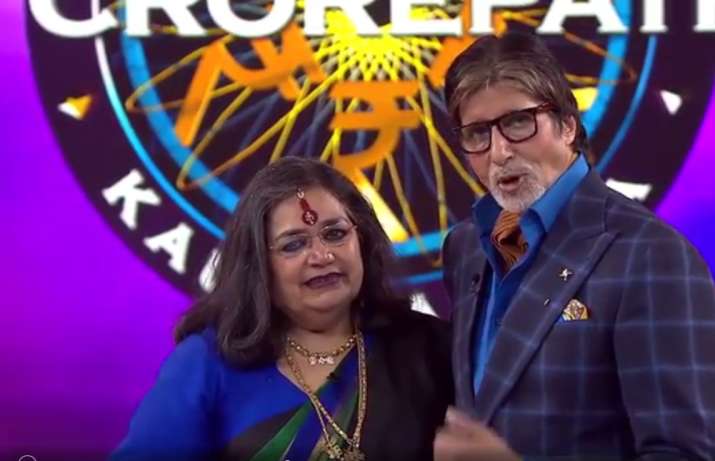 The new season Kaun Banega Crorepati continues to enthral the audience with star-studded elements every Friday to make appearance under its Nayi Chaah, Nayi Raah initiative. In Friday night's episode, Kaun Banega Crorepati started with Mohammed Masrat Begum, who's complete lack in Bollywood startled the superstar Amitabh Bachchan. She was playing fairly well until the 12th question where she wasn't sure about who was the first Indian to win the World Junior Badminton Championship. Despite having two lifelines, she went ahead with her hunch and lost the game. She won Rs. 3,20,000 on KBC last night. 
In the next segment , Amitabh Bachchan ushered in the transgender activist Gauri Sawant on the show. She was shown the video of her story, which was filmed for Mother's Day earlier this year. Gauri cleared that the young girl who played her daughter in the video is not actually her daughter. She also explained that she don't want to expose her daughter to the world till she's an adult. 
 "There's a taboo about our community and I don't want spoil her life," said Gauri Sawant. 
Gauri pledged to donate the money to construct a residential complex for the children of sex workers. She also told Amitabh Bachchan that Usha Uthup is her favourite singer, following which Big B invited Uthup on the show. She was overwhelmed to see the veteran singer on the stage. Usha also sang Darling from Saat Khoon Maaf for Gauri. 
Usha Uthup and Amitabh Bachchan also made an interesting revelation on the show. She has been knowing Bachchan even before he made his debut in Bollywood. They worked in a same office in Kolkata. After a chit-chat, the game started with 6th question. Usha Uthup and Gauri Sawant won Rs. 25 lakh on the show and used three lifelines till the end. 
In the end, the trio sang Ekla Chalo Re from Kahaani. 
Watch Kaun Banega Crorepati with Amitabh Bachchan from Monday to Friday at 9 pm, only on Sony Entertainment Television.