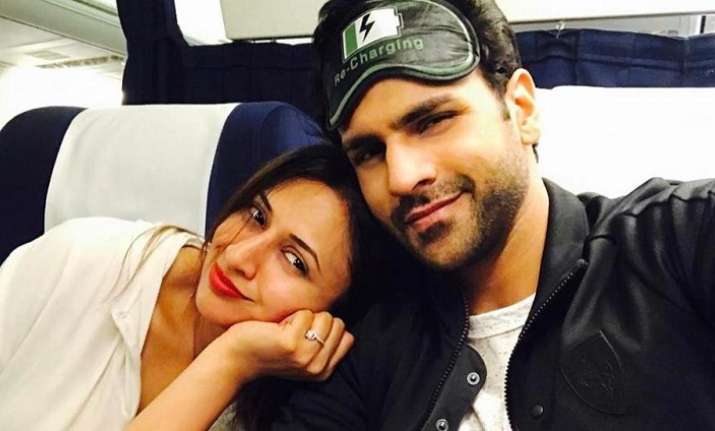 Divyanka Tripathi and her husband Vivek Dahiya are always in the headlines for all the right reasons. The couple has been giving us some serious couple goals ever since they tied the knot back in 2016. It's been a year and the mushiness between the duo doesn't seems to be dwindling even by a bit. On Thursday, Divyanka posted a picture on Instagram that can give many of you some hunger pangs. The picture contained a bowl full of delectable Besan Halwa with an even sweeter caption. She wrote: 
#BesanHalwa for Pati. 
He claims it was nice...and I choose to trust him! 
#RareCookingDiaries
​
To this, her husband Vivek Dahiya responds in a romantic yet funny manner. He, while motivating her, wrote: 
It dint feel as though it was your first attempt...more like second haha no it was fab and that's why I over-ate! XO
Also Read: After Virat-Anushka's selfie, it's Divyanka and Vivek's pic that is winning hearts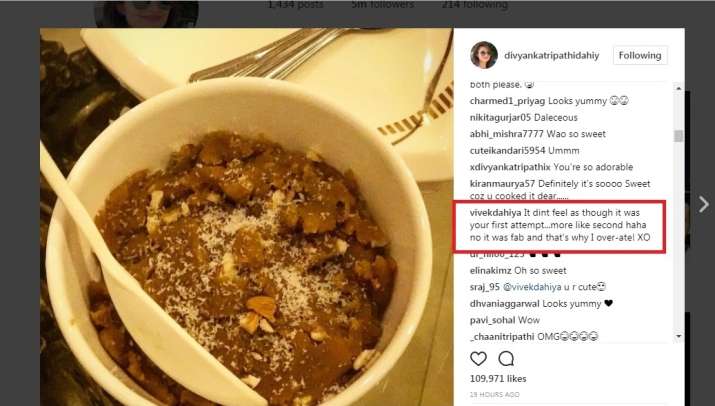 Mr Dahiya's witty wife and Television's sweetheart replies in a playful manner: 
Yeyyy! Pappu pass ho gaya.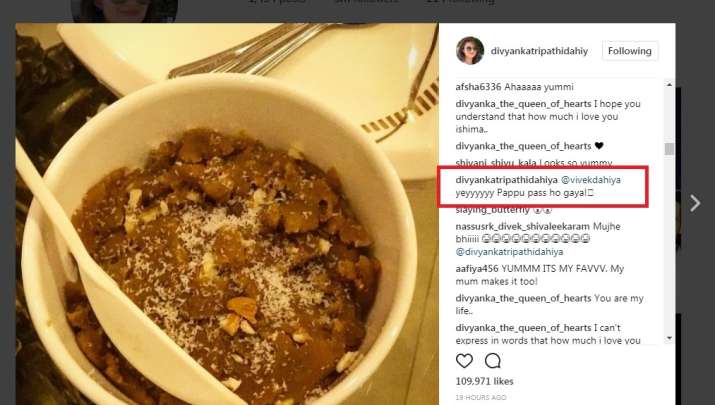 Recently, the actress also revealed how she fell in love with her now-husband Vivek Dahiya. She told her fans that the day she met Vivek she danced the whole night with him. Divyanka also narrates how she felt when she finally met a shoulder to rest her head on. It was on August 2, 2015 when Divyanka met Vivek on her co-actor Shireen Mirza's birthday bash. 
She posted a collage of pictures from the day on Instagram. She wrote in the caption: 
"It's the day, you refer to as your birthday @shireenmirza but for us it's a historical day to remember. The day, Vivek and I danced together for the first time. The day, when few people chose to make a #Divek out of us. Few things remain special for two people forever but I'm happy, you are an inevitable part of our few firsts. I found your shoulder on a Valentine's Day later found a Valentine on your birthday! Girl !!! You are very special for me. You must know that. #HappyBirthday to you. May you receive the kind of happiness you have blessed me with. Love and smiles, Your Divyanka
​
​To this obliged Shireen replied: "First of all thank you soo much my Baby @divyankatripathidahiya and yes Happy Divek to u. Two years back On the 2nd Aug we never thought that this is going to change ur life. Kaha tha na dhoondh lenge Tera Dulha, I'm so happy that I was a little part of ur big happiness!! Thank u for ur wishes and love and guidance. Love u lods."
Also Read: Divyanka Tripathi and Vivek Dahiya's love story restores our faith in 'Happy Endings'
Divyanka Tripathi and Vivek Dahiya worked on a Star Plus serial Yeh Hai Mohabbatein. The duo started going out in 2015 and in 2016, they tied the knot in Bhopal. 
For more entertainment updates, follow our Facebook page