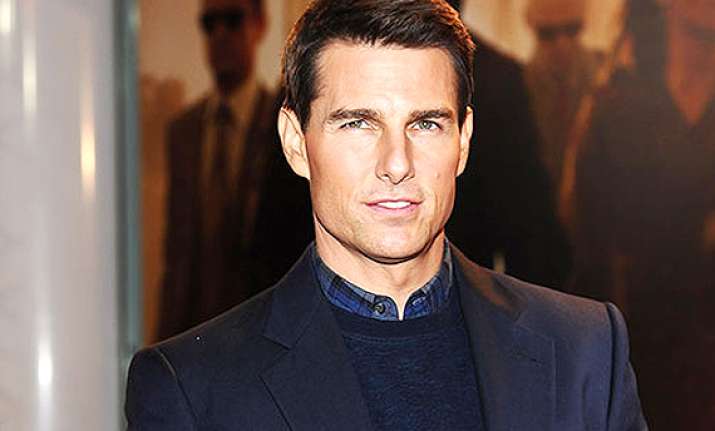 Tom Cruise may have enjoyed romance on-screen but his personal life was always devoid of it.
He was married thrice and briefly dated one actress before his first marriage but they all left him citing 'grew out of love' as the reason.
One of most noted on-screen romantic heroes, Tom wasn't planning on being one, instead he was preparing to become a catholic priest.  So it was surprising to what led him to finding love with women.
Tom was clearly working hard to make a mark in Hollywood with films 'The Outsiders', 'All The Right Moves','Risky Business' and it was about that time, when he met and had a brief relationship with his 'Risky Business' co-star Rebecca De Mornay, which last two years (from 1983-85).
The world for him was turned around and Tom knew what Hollywood did to him. In 1986, Tom Cruise was launched as a superstar with 'Top Gun' and the star was nowhere near to bring all this to a stop.
Tom Cruise is not just known for his stupendous movie career but also his controversial love life, and here's a look at how one of world's most romantic star's life turned a sore love path.
First marriage to Mimi Rogers:
It was in the year 1987, when Tom married actress Mimi Rogers on May 9.
During their marriage it was reported that Mimi introduced Tom to Scientology. Together in it the couple became so engaged by following it that soon both grew away from each other leading to their divorce in two years later on February 4 1990.
Second marriage to Nicole Kidman:
Tom who admitted that he's afraid of being alone, started dating his 'Days of Thunder' co-star Nicole Kidman.
After brief dating, the couple tied the knot in December 1990. Making romantic public appearances became quite common with them. The couple during their marriage tried to conceive but both efforts ended up in miscarriages.
The couple then adopted two wonderful kids, Isabella (born 1992) and Connor (born 1995). During their marriage Nicole on brief occasions made clear on how much she is making effort to adjust with Tom's following of Scientology.
If rumors were to be believed, then it was Scientology that lead to Tom divorcing Nicole.
In year 2001, Tom filed divorce from Kidman. At that time Nicole was pregnant which later ended up in miscarriage too.
Tom Cruise ever since dating Rebecca De Mornay never had been alone for long, even after his divorce with Nicole, Tom was involved with actress Penelope Cruz whom he dated until he met his next wife Katie.
Third marriage to Katie Homes:
Scientology soon after Tom's separation with Nicole, started a secret mission to look out for candidates to being Tom's girlfriend.
The efforts result Tom's brief association with small actresses who auditioned to be Tom's girlfriend. It was said, that herds of women and young girls started following Scientology just for the sake of being closer to Tom.
It was in the year 2005, that Tom confessed his feelings for actress Katie Holmes during his appearance on Oprah Winfrey's chat show. Few months later Tom announced that he and Katie were expecting their first child.
Next year in April 2006 just an year after the couple started dating, Tom & Katie welcomed a baby girl. Later in the year, couple tied the knot in a Scientology ceremony attended by many friends from Hollywood.
The couple within few years of their marriage started having issues owing to interference of Scientology. When Katie feared that Tom and his Scientology mates were hoping to get Suri involved, she decided to walk out of their marriage and took Suri along with her.
And if reports are to be believed, Scientology is leaving no stone unturned to find a mate for Tom Cruise. Recently it was found out that the science church chose actress Laura Prepon.