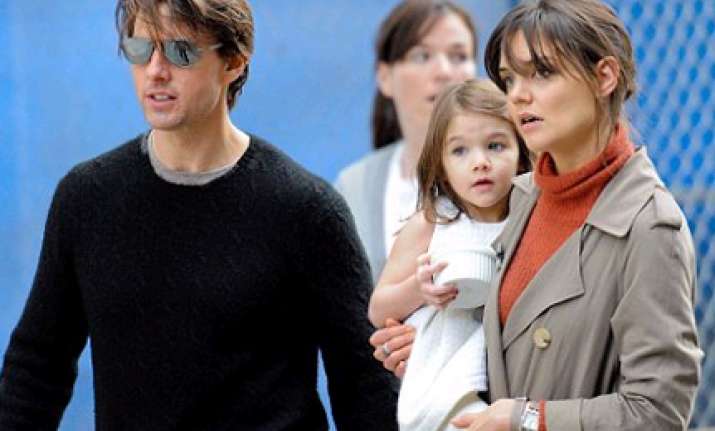 As the child of two of Hollywood's biggest stars, it was always likely that Suri Cruise might one day follow in her parents footsteps.
But it seems that the daughter of Tom Cruise and Katie Holmes  has started earlier than most.
At the tender age of three Suri is already displaying signs of an artistic temperament - showing off her silly side as the A-list family walked around on the set of her mother's new film.
Already the little actress: Suri Cruise walks with her parents on the Australian set of Katie Holmes's new film Don't Be Afraid Of The Dark
Suri giggled with her hand over her mouth as she stared at the cameras, never letting go of her mother's hand.
The group went to a makeup trailer on the set of Don't Be Afraid Of The Dark, where Tom chatted with Australian actor Jack Thompson.
Suri carried handfuls of crayons and paper to while away the time waiting for her parents.
Coat-shy Suri, already dubbed the world's most-fashionable toddler, once again wowed with her outfit.
She teamed her peach satin tunic top with dotted turquoise trousers and sparkly red ballet pumps.
Meanwhile, a dressed-down Katie sported black leggings, striped black-and-white top and a long, blue and white tartan scarf.
After their visit to the makeup trailer, she threw on a thick black parka over her outfit, as well as a pair of long blue jeans.
As they walked away, Katie held a tired Suri in her arms, who hid her face in a uncharacteristic moment of shyness.