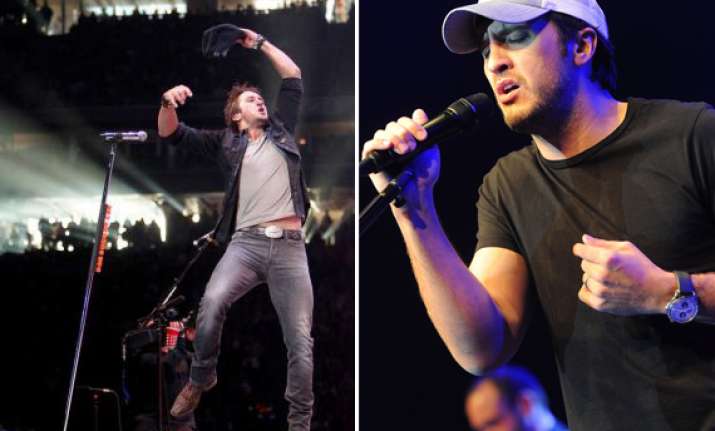 "Hey, I'm a country man!" Luke Bryan sang two songs into his set. Well, yes and no.

The burgeoning heartthrob, who made his RodeoHouston debut in front of 71,007 fans Saturday night, is an urban cowboy of sorts. He sings about beer and partying and pretty girls (almost exclusively). And he dubbed the night "a dream come true" in "the house that George Strait built." (Indeed.)

"This means the world to me and my band and all my folks," he said.

But Bryan eschews many traditional genre elements. He bounded onstage in a backwards ball cap, V-neck T-shirt and leather bracelets. Not exactly the cowboy way.

"Girl, you make my speakers go boom-boom," he teased during "Drunk on You."

Traditionalists will likely scoff, but there's something effortlessly engaging about Bryan's live show. His energy and enthusiasm were relentless - and often infectious. And he never seems to be trying too hard.

Bryan's ruggedly handsome looks also made for one of the loudest crowds to date. Females squealed and sighed throughout the hourlong show. Bryan played it up, flashing a sparkling white smile and shaking his hips. Cue louder screams.

His tunes - "Where I Come From," "Someone Else Calling You Baby," "Beer and Wastin' Bullets" - are almost afterthoughts, standard entries designed for radio play. One runs into the next, with little variation. He's a perfect example of charisma and charm going a long way.

The best moments came when Bryan mixed things up a bit.

He called Dan Seals' "Everything That Glitters (is not Gold)" "The best rodeo song that I've ever heard in my life." And breakout hit "All My Friends Say" was interrupted with a few lines of Metallica's "Enter Sandman." It should have been terrible, but it wasn't, really, because he seemed to be having so much fun.

Set closer "Country Girl (Shake it for Me)" met with roars of approval, and Bryan jumped offstage to dance with fans. You could almost feel the entire stadium engage in a collective swoon.