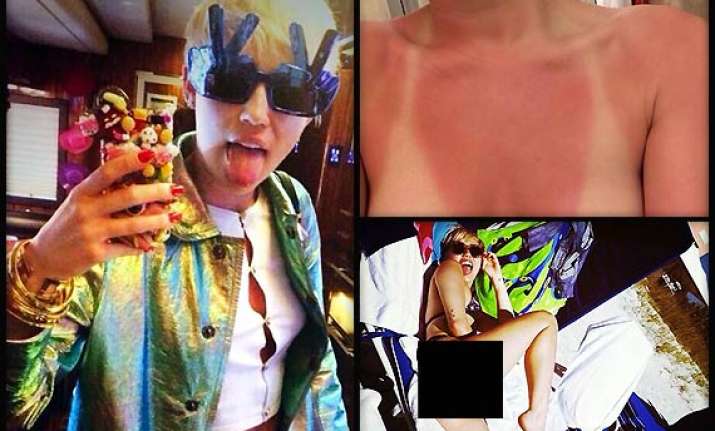 No matter when and how, Pop sensation Miley Cyrus finds her way out to create scandaluous headlines all over.
This time she hasn't groped or hopped anyone else but Miley Cyrus has posted some of her extremely obscene selfies so far. 
Miley who is currently busy on her Bangerz Tour has somehow found enough time to pose and post weird selfies of her on her Twitter and Instagram accounts. 
In one of her selfie she displays off extreme body tanning lines around her cleavage with a caption which says, 'Quick change today is gonna be a realllllllllll b**** #f***yeahtampa. Better watch out gal before you go up in flames like your tour bus!'.
While in another she shows off a wound mark on her butts caused while twerking in a local pub. Its' caption says, '#f**kyeahtampa yasss that's a bruise on my arssss ??' 
It seems Miley is on a spree to totally erase the memories of her good 'ol Miley Cyrus/Hannah Montana days from her fan's memories.