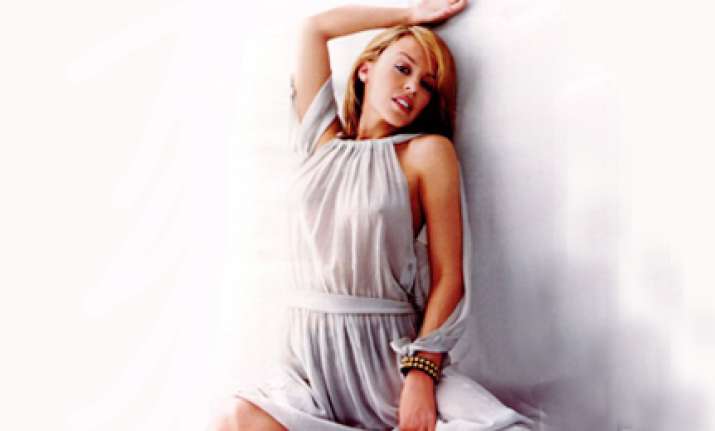 India is already doing 'Chiggy Wiggy' with Kylie Minogue, although the film 'Blue' for which she delivered it is yet to be released on October 16. 
Kylie's meaningless cacophony 'Chiggy Wiggy' in collaboration with Oscar winner A.R. Rahman (Slumdog Millionaire) has become a chartbuster and household word in India, a signature line for "Blue", set-up new trend for Bollywood music, and taken up plenty of column inches. 
Tipped by its leading star Akshay Kumar as "most dangerous film ever" and by media as the "most expensive film in the history of Bollywood", underwater thriller "Blue" also stars Sanjay Dutt, Katrina Kaif, Lara Dutta, and pint-sized Grammy winner Kylie Minogue as herself. This is Kylie's first silver screen appearance after "Moulin Rouge!". 
Shot in Bahamas and Thailand, its cinematography has been handled by Pete Zuccarini (Pirates of the Caribbean), action scenes by James Bomalick (The Fast and the Furious), and sound mix by Oscar winner Resul Pookutty (Slumdog Millionaire). 
Rahman was quoted as saying: "By working with Kylie, I was able to create something truly unique for fans-the music fuses the cultures of mainstream pop, Hindi, and Bhangra." 
Acclaimed Indo-American statesman Rajan Zed has welcomed the West-East musical collaboration this film and Kylie offered and invited other world composers to explore joint ventures with India's musicians. 
But in the mad rush, India should not forget its rich music heritage which went back to pre-BCE Hindu scripture Sama-Veda, and includes Dattila (190 AD), Amir Khusrau, Naik-gopal, Puramdaradasa, Tansen, Pundarika-vitthal, Govind Dikshitar, Ramdas, Venkatamakhin, Tyagaraja, Pandit Bhatkhande, etc., Rajan Zed, who is president of Indo-American Leadership Confederation, said in a statement in Nevada (USA).