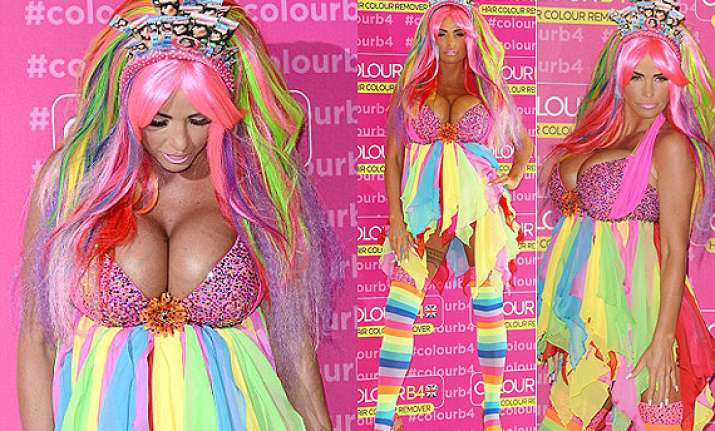 New Delhi, Katie Price is certainly taking the weather seriously as these are the days of sunshine and showers!
The pregnant star arrived at the hair colour brand launch, dressed like an actual rainbow. Katie shocked everyone with the splash of colours with which she arrived at the launch.
Katie is the new global ambassador for the brand and she made sure that she attracts plenty of attention at the do by sporting an outfit which included every single colour that exists.
 She showed off her giant busty assets in a pink uplifting and embellished leotard which had rainbow streamers hanging from it.
Hold on! It had an orange gerbora brooch too!
The –year-old starlet is such a dedicated brand ambassador that she accessorized her hair with a headband with promotional images stuck in making a fashionable tiara.  
The former glamour model matched her neon wig to her loud attire along with matching her thigh-high socks while her skin had a bold shade of Tangerine.
Her pink glittery bra-top also matched her platform stilettos, while her tiara completed the look.
Adding insult to the injury, she wore a rainbow-coloured wig.  Interestingly, the product being launched is for the removal of hair colour. Well, Katie made us speechless!
Her fashion explosion didn't stop there; she wore a thick slick of stand-out pink lipstick and a pair of red glittery heels. 
No doubt Katie is having a tough time in her married life she seemed adamant enough to flaunt her vivacious curves.
Well we wish Katie's extraordinary outfit brings a bit of colour to her life!
But we couldn't stop saying that she was ready to explode!