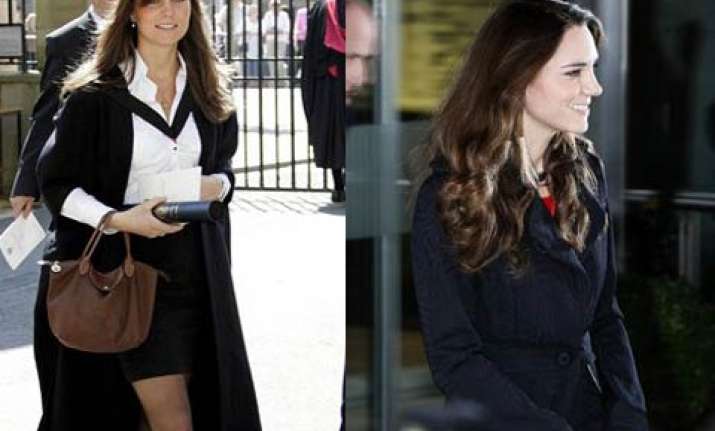 London, Feb 26 :  Britain's top designers were showing off their new hotly anticipated collections at London Fashion Week till a couple of days ago - but whereas fabrics and colour palettes are the usual topic of conversation, this season there is only one subject on everybody's lips; Kate Middleton's wedding dress.With just over two months to go until the royal wedding, speculation is rife over who will be designing the bridal gown.
Backstage at her fashion show on Sunday, iconic designer Vivienne Westwood wasn't coy about whether she'd been asked to design Middleton's dress for her wedding to Prince William. The answer - sadly, she says - is no."She's definitely not getting it from me or else I would have heard," Westwood said.
The designer did admit that she would love to dress Middleton, but said "we have to wait until she catches up a bit" when it comes to style.Westwood might not be a big fan of Kate's look, but CEO of British Fashion Council, Caroline Rush, thinks Middleton is a style icon in the making.
"I think Kate Middleton is going to be an incredible ambassador for the industry. She looks fantastic in clothes, she already has friendships with some of the designers that show here," she said. "I think she will find her own style and she looks wonderful."
For most brides, choosing the right dress is no easy task, and if the marriage of Prince William's parents, the Prince of Wales and Princess Diana, can be taken as a measure, Kate can expect to have a global audience of more than a billion at her wedding this year.Diana made an unforgettable entrance on her wedding day with a dress by designers David and Elizabeth Emanuel.
Billed by some as over-the-top, the silk taffeta gown and 25-foot train was the epitome of a fairy tale wedding.Designer John Rocha believes that the "gorgeous" Kate would make her own style statement in line with the current times.
"I think it's great the way she gets us excited as a country. I think like everything else, we are proud of the royal family that we have, and I think that it will be a great occasion, and I think that she is very stylish. But also what I like about her too is that she is just a normal person too. It is very important to bring in the royal family into the new century."
Designer brand Issa is a favourite of Middleton's and designer Daniella Issa Helayel is reaping serious benefits from Kate's high profile endorsement.Middleton even wore a sophisticated dark blue Issa dress when she and Prince William announced their engagement last autumn.Issa was happy about it and said that Kate "looked beautiful". She hopes to continue to design dresses for Princess Kate.
However, she politely refused to address speculation that she may design Middleton's wedding gown, or perhaps the evening attire the bride will wear to a gala Buckingham Palace reception hours after she is wed.
The royal couple's wedding will take place at London's Westminster Abbey on April 29th, so fashionistas will have to wait until the big day to find out which designer got the royal seal of approval.AP