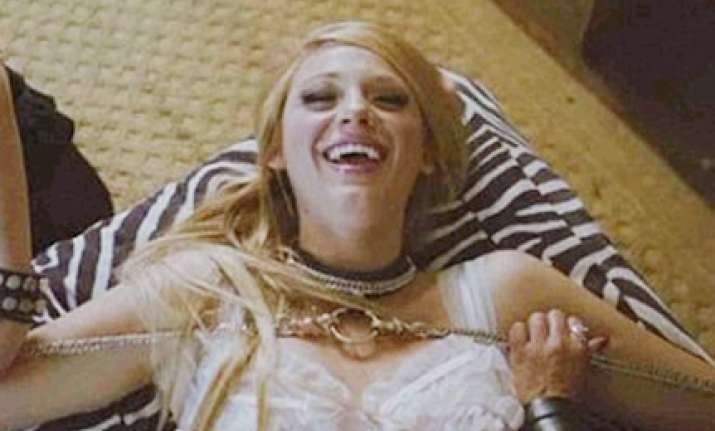 Gossip Girl Blake Lively plays the role of a troubled teenager in lesbian bondage in a film The Private Lives of Pippa Lee.
In the film, the troubled teenager Pippa runs away from home and is introduced to a world of bondage and drugs by her lesbian aunt, reports The Mail, London.  Pippa ends up acting in lesbian bondage films and develops a taste for drugs before she is rescued by an older publisher Herb Lee, played by Alan Arkin. 
The film is directed by Daniel Day Lewis's wife Rebecca Miller, who also wrote the book the movie is adapted from.
While most of the film centres on the 50-year-old Pippa Lee, played by Robin Wright Penn, Blake stars as the younger Pippa in the flashback scenes.
The elder Pippa is the epitome of a perfect wife and mother and finds her life unravelling when she moves with her husband to a retirement community.
She finds herself drawn to handsome neighbour Chris, played by Keanu Reeves.
Her friends have no idea of Pippa's crazy teen years and her tumultuous childhood.
The young Pippa runs away from home after finally tiring of violent clashes with her bipolar mother Suky (Maria Bello) and her pastor father Des (Tim Guinee).
Seeking refuge with her aunt, she is stunned to find out she is a lesbian in a relationship with a dominatrix named Kit (Julianne Moore).
Kit is thrilled to meet the fresh-faced Pippa and soon casts the confused teen in her depraved S&M movies.
In one scene, Blake strips down to her retro underwear and is spanked on the backside by a severe-looking dominatrix dressed in black.
In another sequence, Blake ends up in a dog collar with a chain and is controlled by her two 'captors'.
But after turning to drugs, she finds her salvation in protective Herb, who falls for the vulnerable young woman.
The Private Lives Of Pippa Lee was first screened at the Berlin International Film Festival in February and was well received by critics.
It had a limited run in British cinemas in July, taking £108,160 in the box office.
The film is released on DVD in the UK on November 2 and has a limited run in US cinemas from November 27.