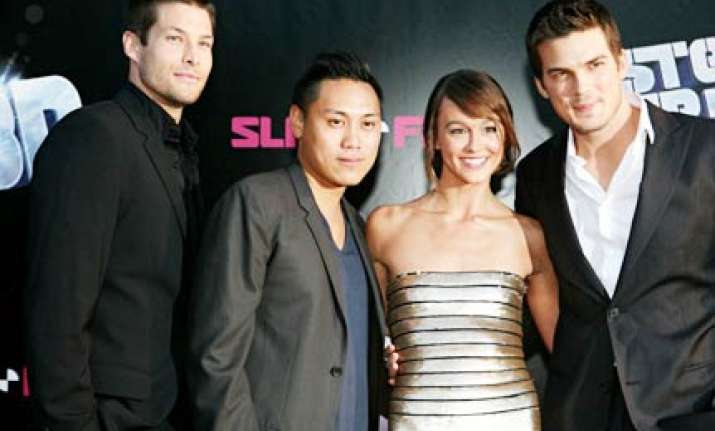 The dance flick goes high-tech in the new "Step Up 3D," but there was plenty of old-school popping and locking on the red carpet at the film's Hollywood premiere on Monday (2 August).
Dancers who appear in the movie busted flips and spins on the arrivals line before the screening of the film, shot with 3D cameras, and featuring superstars of the hip-hop dance world.  
The lead actors are relatively unknown, but then so was Channing Tatum when he made the original "Step Up" in 2006. The new film features Rick Malambri and Australian Sharni Vinson.
"We wanted to capture the essence of you feeling like you're with us, it's live, like you're a part of the crew, and I think we really got that," Malambri said of the movie and its 3D effects.
"We weren't going for the gimmicks and the throwing things at you. They're still there obviously, but the most important thing was to make you feel like you're a part of our movie. And it works."  
Vinson was impressed at the commitment of the dancers at the New York set, who never stopped moving.
"These guys just live, breathe, eat and sleep dancing. It's crazy. We go into lunch break, and they're kind of like still popping and locking as they're eating their salads or McDonalds, whatever it is that they're eating," she said.
The dancers themselves talked on the carpet about the effect that the art has had on their lives.  "I wouldn't have any of the opportunities that I've had if it weren't for dance," said Keith Stallworth, who plays Jacob in the film.
"I wouldn't even have the confidence to stand here and talk to you. I was a very shy kid when I first started dancing. It gave me a voice. It gave me power. It taught me how to move through the world."
The actors and behind-the-camera forces of the movie also joked about possibilities for sequel titles following "Step Up 2: The Streets" and "Step Up 3D."
"'Step Up 4 Life,' 'Step Up 4 Good,' 'Step Up 4 Ever,'" Vinson said. "I don't know. 'Step Up 4' something, we'll see."
Dancer Joe Slaughter said it'd be "Step Up 4 Ever," "because if they do any more after that, I don't know where it's going to go."
But director John M. Chu was more optimistic, joking that the next movie would have a built-in awards season advertisement: "We think it's going to be the Academy Award-winning one, so 'Step Up 4 Your Consideration.' I really think that's the one next time. We're really going to go for the award this time."  
And producer Adam Shankman, also a judge on the reality competition series "So You Think You Can Dance", joked about a blend of superheroes and dance: "I always wanted 'Step Up 4 Justice' about a band of crime-solving street dancers."  
"Step Up 3D" opens 6 August in the US.   AP