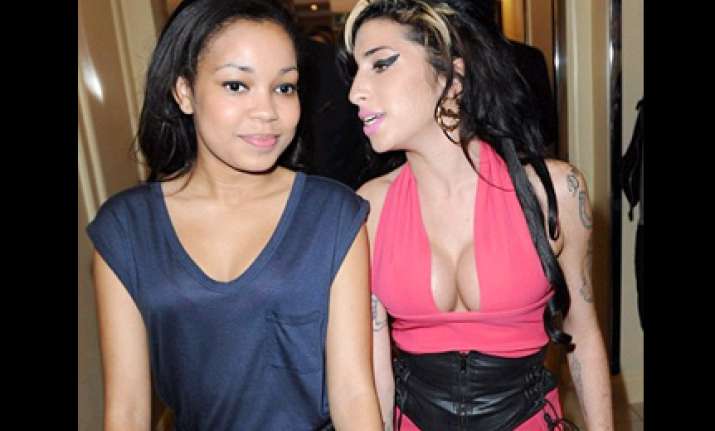 Singer Amy Winehouse wore the skimpiest of cocktail dresses to display her recent breast enlargement when she turned up with  13-year-old Dionne Bromfield for the Q Awards, says a pictorial report in The Mail, London.
Amy Winehouse flaunting her new breast enhancement, arrived at the Q Awards with god-daughter Dionne Bromfield
The singer sipped on a drink and hoisted up her short pink dress as she held an unlit cigarette
By 8pm, having earlier made a change into a corset top, the singer's asset had popped entirely out of the ensemble.
It was a predictable turn of events, with her clothes seemingly slipping further down her body as the night went on.
Thankfully, Dionne had gone home at the point of exposition leaving Amy to disgrace herself in front of her manager and waiting photographers.
By 5pm the singer had made a costume change into a mini skirt and corset top, which three hours later slipped down to reveal her breasts
Amy pictured seen leaving the Gaucho restaurant, after dining with goddaughter Dionne Blomfield and Dionne's mother
Despite her father's insistence that she has overcome her troubles, many were left wondering if he was being a tad optimistic.
Winehouse single-handedly brought the Q Awards to a halt in front of stunned guests as she failed to arrive on time for her presenting duties.
The troubled star was due to hand over the prize for the most inspirational artist alongside reggae singer Don Letts.
But Letts was forced back into his seat while embarrassed host Al Murray frantically tried to fill time and organisers searched for the singer.
After several minutes Letts was called back to the stage to present the award to band The Specials with no sign of Winehouse.
Midway through The Specials' acceptance speech, Winehouse finally arrived, picking her way through the audience and clambering on stage - only to be given a furious talking to by an angry Letts.
Clearly hoping to make a show stopping entrance in the skimpiest of cocktail dresses which showed off her £5,000 breast enlargement surgery, she succeeded for all the wrong reasons. 
As the group left the stage she grabbed a microphone shouting down to a hushed crowd: 'I know you've been to these awards a million times but give it up for The Specials,' which brought muted applause from the crowd.
All this was witnessed by her 13-year-old goddaughter Dionne Bromfield whom she had starred with on Strictly Come Dancing recently.
Explaining her tardy arrival to the Daily Mail after the event she looked visibly unsteady as she slurred: 'What's it to you, I was doing my hair. F*** off.'
Things deteriorated further when Robert Plant arrived on stage to collect the Outstanding Contribution to Music Award in front of a room that included singer Lily Allen and bands Kasabian and the Stereophonics.
Sophie Ellis Bextor (left) looked sleek in a black dress, while Kate Nash went for a more casual approach
As he came to the end of his emotional thank you speech Winehouse heckled from the back of the room across a hushed floor.
It stopped the veteran star in his tracks before he regained his composure and continued.
Her late showing at the Grosvenor House Hotel in central London was even more surprising given that organisers had booked her a suite upstairs in the building in a desperate bid to ensure that she would turn up on time.
(L-R) Roddy Byers, Terry Hall, Neville Staple, Lynval Golding, John Bradbury and Horace Panter were supposed to receive their award from the singer
Staying in a £1,000 a night fourth floor suite she had only yards to travel yet still managed to disrupt the event which had gone smoothly until her arrival.
Her car-crash showing comes just a week after her father Mitch claimed his daughter was recovering from her high profile battle with drink and drugs.
Speaking on This Morning, he claimed his daughter had been healthy for the last year and said: 'There is no total recovery. It's a recovery. It's a slow, gradual recovery.
'If you look back to where we were a year ago, you know we are in a different planet. We are in a different space and a different time and a different person. We all are. We're all recovering.'
Lily Allen, no stranger to controversy herself in the past was made to look positively saintly in comparison as she accepted the prize for best single.
Oasis, nominated for Best Live Act and Best Act in the World at what would have been their first awards ceremony since they split earlier in the summer, chose to snub the event.
Amy poses with Terry Hall, the lead singer from The Specials
 
Here are the Q Awards winners:
 
Best New Act: White Lies
Breakthrough Artist: Mr Hudson
Best Video: Just Dance - Lady GaGa
The Q idol: Spandau Ballet
The Q Inspiration Award: The Specials
Innovation in Sound: Sonic Youth
Q Classic Album: The Unforgettable Fire - U2
Best Track: The Fear - Lily Allen
The Q Icon: Marianne Faithfull
Classic Song: Relax - Frankie Goes To Hollywood
Q Legend: Edwyn Collins
Best Live Act: Arctic Monkeys
Classic Songwriter: Yusuf Islam, formerly known as Cat Stevens
Outstanding Contribution to Music: Robert Plant
Best Album: West Ryder Pauper Lunatic Asylum - Kasabian
Best Act in the World Today: Muse