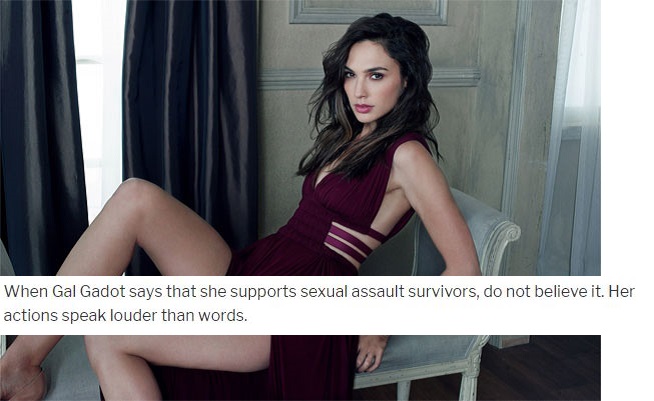 Gal Gadot is hailed as a 'wonder woman' not only in reel life but in real life as well. She is looked upon by many young women as an epitome of strength, until recently. The Israeli actress has been accused of 'victim shaming' her friend who was raped in an anonymous letter. The unnamed rape survivor also charged on her for introducing her roommate to a 'rapist'. This anonymous letter has gone viral on social media. It is titled 'Here's how Gal Gadot actually responded when I was raped by her friend'.
It was published by the website iamsurvivor on November 14. It was written in response to Gal Gadot's tweet on Harvey Weinstein's sexual assault fiasco that dominated the headlines throughout the month. In the letter, a woman recounts the horrible incident when she was brutally raped by Gal Gadot's friend and how the actress turned the tables at her.
The letter goes like this...
Recently Gal Gadot tweeted that bullying and sexual harassment is unacceptable. Her hypocrisy deeply wounds me, because the shame and blame she instilled in me after her friend raped me haunts me to this day.
Gal is a predator who enables predators.
This is my story.
The letter recounts an incident 13 years old. She was 18 while Gal was 19 years old. The writer shared an apartment with Gal Gadot for two months in Milan, Italy. She wrote an anecdote of a young girl who raped at a club. The actress shamed the young girl for being raped and choosing the wrong club for partying. This was the first incident when Gal Gadot victim shamed a rape survivor who was already going through a lot.
Gal calmly told me that the girl had been raped at a club, and that the experience had put the girl in the hospital.
 Gal said the girl was stupid — for going to the wrong club, and for trusting the man who brought her there. I felt sorry for Tamar, but I didn't know what to do. I didn't realize that meeting her would foreshadow my future.
Gal introduced the writer to her friends Ayala and Yaniv, who were dating each other. The writer started spending more and more time with Gal and her friends. Soon, the four of them became a close-knit group. Gal and the writer also started sleeping at Ayala and Yaniv's apartment. It was when Ayala left for Greece and Gal was also out of town that Yaniv took advantage of the situation. He took her to a new club and drugged her. Yaniv forced himself on the writer while she was in an inebriated state. 
I remember thinking that we were going home so that I would sleep on the couch, as Gal and I had before. I woke up in Yaniv's bed, naked. He had removed my clothes when I was unconscious. I remember him climbing on top of me. I could just barely say "no", and "this isn't right". Then I blacked out.
I woke up again while he continued raping me. He was restraining my arms so I couldn't move. It was violent. There was pain. I will never forget how he looked in that dark room. I will never forget the absolute panic I felt. It was terror. I thought he would kill me next. His rape was full of hate. He did not look at me.
I woke up the next morning, groggy and delirious. I asked Yaniv what happened. I wanted to hear him say it.
"We had sex," he said, and shrugged. "I thought you knew."
This was when the tragedy struck to her. But little did she know that the worse was yet to happen. She confided in Gal and narrated the whole incident to her. According to the writer, when she told her about her rape, instead of empathizing with her, Gal turned into complete maniac. 
She stood over me, intimidating and loud, blaming me for what happened. Her eyes were fire. I had already felt small and violated, but she shamed me into feeling obsolete. I felt extremely dirty. Already in shock, I disassociated from my body. I can't remember most of her words. I remember being in utter terror of her anger.
She was furious for Ayala and "what I had done to her". Gal pointed her finger in my face like a weapon. She asked me how I could do this, and that I needed to make this up to Ayala. She made me feel ashamed, and that the whole event had been my fault, and that I had brought it upon myself by being so naïve.
Gal forced her to write an apology letter to Ayala referring to the rape as 'your mistake'
She brought me downstairs to a computer. Gal put her hands on me and forced me into the chair. She made me open my email account and write Ayala's address in the address bar.
Standing behind me and above me, Gal held my shoulders down with a terrible pressure, preventing me from escape. She attempted to dictate what she called my "confession and apology". I could not do it. I was crying, and my head seemed to break apart. My heart felt like it was bleeding out. My stomach was in awful knots. I began disassociating from my body. I could not speak. I could not write her lies.
She referred to the rape as "your mistake".
But the writer refused to write the letter and returned to her home in the US. Due to the heinous incident, the writer finished her career, sinking in her own guilt and shame. While recounting the past, the writer accused Gal Gadot to be 'predator' and she claims thats how she survived in a 'predatory industry'. 
Gal has succeeded in a predatory industry because she is a predator. She is unafraid to destroy others in pursuit of her ambitions. Like any strong predator, she knows how to target, destroy, and consume the weakest and most vulnerable.
Highly skilled predators in our society manage to land roles where they cultivate public trust.
Bill Cosby put on a sweater and built trust as a Huxtable.
Gal Gadot put on a breastplate and became an icon for women.
A predator in a costume is a wolf in sheep's clothing.
When Gal Gadot says that she supports sexual assault survivors, do not believe it. Her actions speak louder than words.
The tweet was later taken down by Twitter as it identified people by name. But you can read the complete letter here.