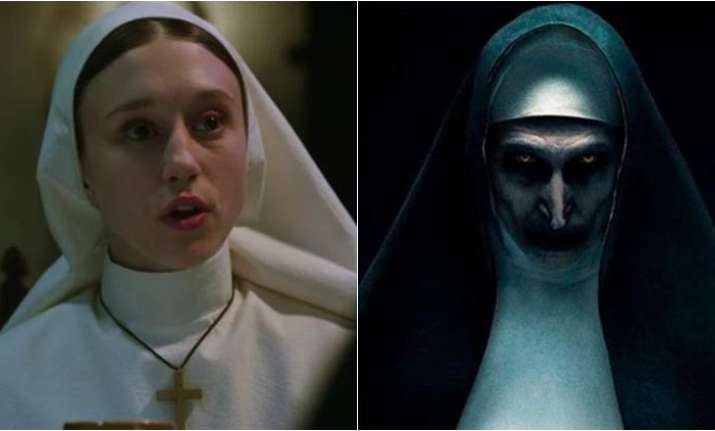 The Nun is raking in considerable numbers at the Indian box office. After earning Rs 28.50 crore in its opening weekend, the film passed the Monday test with flying colours. And according to early estimates, The Nun made around Rs 3 crore on Tuesday.
The Corin Hardy directed film that had released in 1,603 screens in India is a spin-off of 2016's The Conjuring 2, and the fifth installment in The Conjuring Universe. Starring Demián Bichir, Taissa Farmiga and Jonas Bloquet, the plot follows a priest and a Catholic novitiate who discover a secret in 1952 Romania. 
The film that has grossed $131 million worldwide, belongs to a franchise that is already well-known in India with 2017's Annabelle: Creation and 2016's The Conjuring 2, the previous two installments having earned Rs 49.50 crore and Rs 61.78 crore in the country respectively. The Nun has evidently beaten their opening day collections of Rs 4.60 crore and Rs 5.25 crore respectively.
Trade website Box Office India compared the impressive collections of The Nun to a much bigger Hollywood film, Marvel's Deadpool 2 that had made Rs 9.50 crore on its opening day, only slightly higher than the new film which isn't children or family friendly at all.
The Nun carries forward the fantastic run that Hollywood films have had in India this year. Marvel's superhero flick Avengers: Infinity War had emerged as the highest Hollywood grosser ever in the country with lifetime collections of Rs 227.43 crore after its April release. Other Hollywood hits this year include Marvel's superhero films Black Panther and Deadpool 2 that earned Rs 52.53 crore and Rs 58.08 crore, respectively and Tom Cruise's action film Mission: Impossible- Fallout that had collected Rs 80.20 crore.