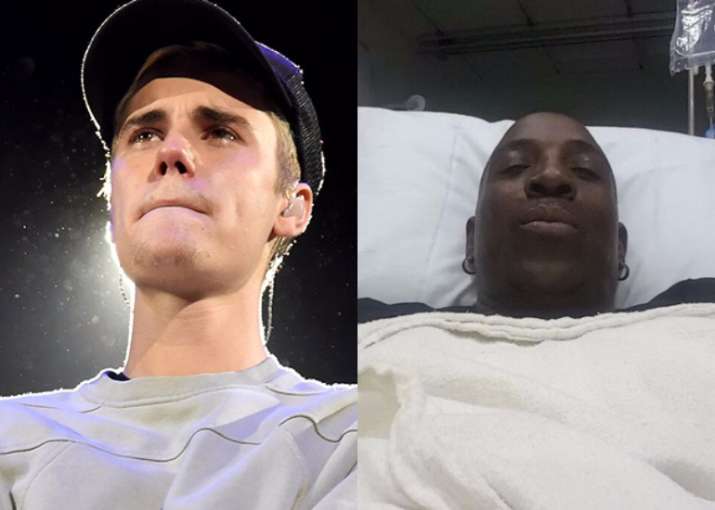 Few days ago, a video showing Justin Bieber accidentally running over a photographer with his monster truck got viral on internet. In the video we can see the popstar coming out of a church after a worship session in Beverly Hills, while the paparazzi trying to get clicks. He mounts his monster truck and a just a few seconds later, a photographer named Maurice is found injured between the wheels of the massive truck. The paparazzi present at the moment rushed to help the injured. Justin Bieber himself got out of his truck to have a look at the matter. 
Justin Bieber is always careful and affectionate towards his fans and so he was equally kind to the Maurice who got hit by his monster black truck. He made sure that the injured paparazzi was okay till help arrived. Some of the photographers present there even slammed the pop star for being reckless. But the man who got injured is all praises for the singer. He came to his side and is really appreciative of Justin for being kind to him. 
The hospitalised photographer blamed the enormous size of the vehicle for being the cause of the accident. As the truck was too big, Justin Bieber couldn't see him, as there was a slope. Here's what the photographer said in defence of the singer. 
The photographer ran over by Justin Bieber: "He's a good kid, accidents happen." https://t.co/uc6rKuFWc5

— Pop Crave (@PopCrave) July 27, 2017
"I think the truck was a little too big for him though, because there's no way he could see over the front…the slope it was on. Like I said, he got out, he was compassionate, he's a good kid, accidents happen. Hopefully everything works out here, getting ready to go into the X-ray now,"
Fortunately, he ended up having only minor injuries. There have been reports about Justin running over mediapersons out of rage. But this time, he couldn't have been more concerned and caring when the photographer Maurice got hit by his car. He got out and ran to him asking, "What can we do? What do you need?". He even scolded other paparazzi for swarming the site and asked them to give him some space. He stood there for 10 minutes until paramedics arrived.