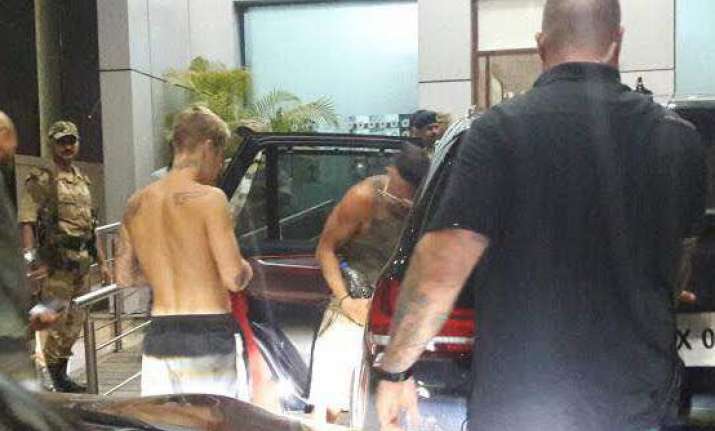 Justin Bieber's India concert was one of the most talked-about events of the year. While the concert made several headlines right from lip-syncing to waving Indian flag, the international pop star has left India already.
The Canadian singer had plans to visit Delhi, Jaipur, Agra and a Bollywood party was also waiting for him. However, Justin left India barely a few hours after his Mumbai concert ended.
Too much heat
It seems that the Sorry singer couldn't extend his stay because of the terrible heat the country has to bear every summer. 
Also Read: Justin Bieber's India concert: Was it a flop show?
These photos of a shirtless Justin Bieber at the airport indicate that the heat got the better of him.
Justin Bieber spotted at Mumbai airport

The international pop star was seen without his shirt

Justin Bieber leaves India early, was it the heat or bad arrangements? (in pics)
Bad arrangements 
Reports suggest that Justin was unhappy with the arrangements by the show organisers. The show was hyped as one of the greatest concerts of all times to be held in India.
However in reality, it was unplanned and not organised properly. Uncontrolled crowd, utter chaos, overpriced snacks and inadequate toilets turned the event into a disappointment for many fans.
There was buzz that after the gig the pop star went for a midnight stroll at the Gateway of India. However, with the latest reports and the airport pictures that have surfaced, it looks like this was the only sightseeing that Justin did. After a lot of buzz surrounding Justin Bieber's visit, the singer has indeed left India. 
After his India visit, reports suggest that he will be performing at Johannesburg, South Africa on Sunday.