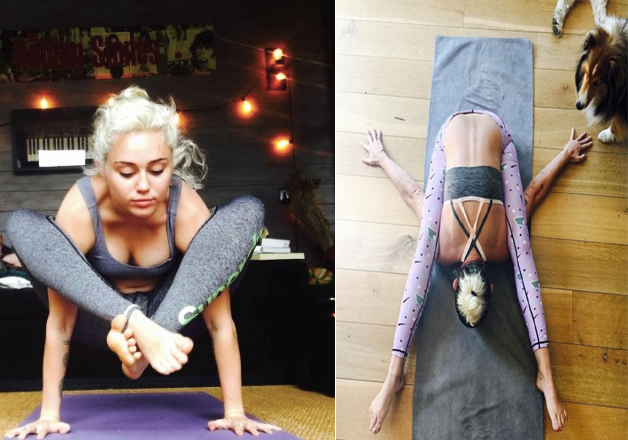 International celebrities like Beyonce, Kylie Jenner and Miley Cyrus have the perfect queenly figure and love to flaunts it as per their will. And very few know that these Hollywood celebs believes deeply in the power of yoga and meditation. Here are few sneak peak of their fitness regimen.
Beyonce: 
When it comes of fitness, confidence and attitude, Beyonce simply slays it. She is best known for her singing and smokin' hot body. Here we bring Beyonce's fitness routine, which she swears by. Beyonce workout 5 days in a week and practices yoga once in a week. Once while speaking about yoga Beyonce said, ''I've never ever done yoga before in my life, so I'm not an expert on the subject. But I do know that while yoga is great for relieving stress and making you bendy, it shouldn't be the only thing you do if you want to build a sexy body. Feel free to do yoga, just don't make it your primary workout.''
Miley Cyrus: 
Miley Cyrus simply leave everyone awestruck by her flexibility in the yoga and complicated asanas. The star has many times through her Instagram posts has stunned everyone through her impressive yoga poses. 
Showing off her impressive flexibility Miley shared one of her picture with the caption, ''Celebrate the bad ass #newmoon today by letting go of all the old heavy shit holding ya downnnnn and SMILE do something that you love & thank the universe for giving that sacred thanggggg to uuuuuu!!!!!!''
Kylie Jenner:
The most sexy and fit star from the Kardashian-Jenner clan is Kylie, who loves to flaunt her perfectly shaped figure. This reality star follows a rigorous yoga regimen to stay fit and fine. Fitness freak Kylie spend hours at her workout session to keep her body toned and fit.