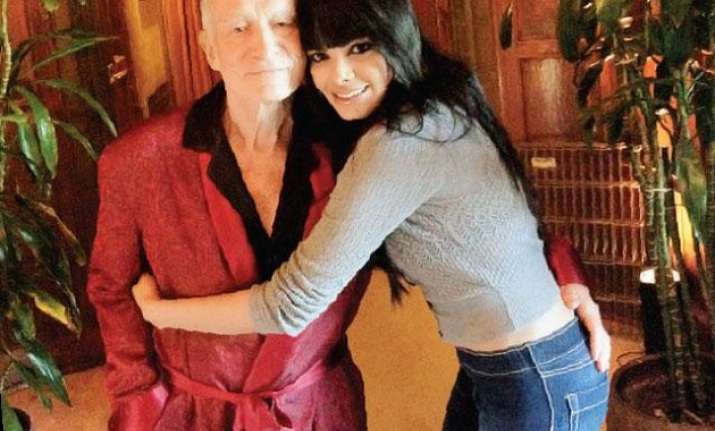 Hugh Hefner, the founder of Playboy magazine died on Wednesday. He was 91 year old when he passed away under natural circumstances. Hugh Hefner is said to have transformed sexuality into a magazine and then spun it into an entertainment giant, which continues to dominate the industry for 64 years and will continue to do so in many more to come. Playboy and Hugh Hefner were tantamount to each other. Both, Playboy and Hefner advertised themselves as the epitome of sexual revolution, breaking the barriers set by self-proclaimed moral polices of society. 
On his demise, Indian actor Sherlyn Chopra expressed her remorse on Twitter. She posted: 
'RIP #hughhefner #trailblazer.'
In an exclusive interview with Indian Express, Sherlyn Chopra shared some insights on her camaraderie with Playboy founder Hugh Hefner. Chopra shot for Playboy magazine in 2012. 
On the death of Hugh Hefner, Sherlyn Chopra says, "Hugh Hefner was a trailblazer. He followed his bliss and his bliss lead him to a billion-dollar fortune."
While sharing her experience shooting for Playboy, she reveals that it was nothing less than a luxury paid vacation. She was heavily pampered by Hugh Hefner's staff, which made her experience very memorable. She adds, "Barring the photographer, everybody in the team that did my cover shoot was young women with a mind of their own. They were well trained to think independently. None of them looked at me as an object or a thing but as a spiritual being in a beautiful, exotic body. It's that paradigm that made it very comfortable for me to unleash my sexuality."
Shedding light on Hugh Hefner's charismatic personality, she says, "I found Hugh Hefner to be a charming gentleman. It is no secret that he lead a life that was flamboyant, bold, outrageous and supposedly controversial. It should also remain no secret that he was passionate about creating an empire not by conforming to the dogma set by the self-proclaimed guardians of the society but by acting on his highest excitement not just occasionally but consistently with an unequivocal zest for growth and expansion.
Hugh Hefner founded Playboy Magazine in 1953. Apart from this, he was also a political activist and philanthropist, who pitched in for several causes and public issues.