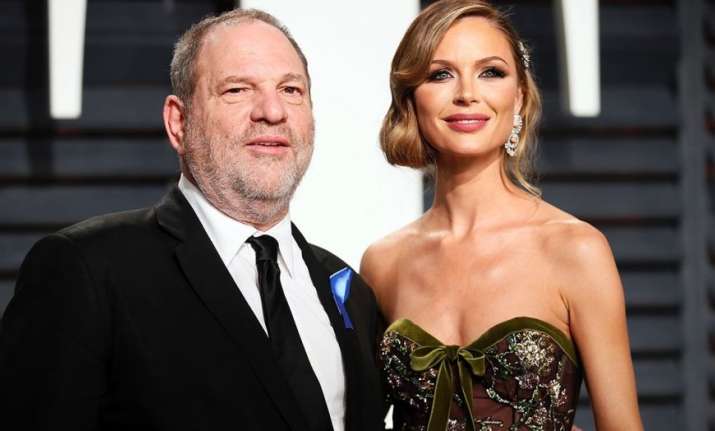 Hollywood mogul Harvey Weinstein's wife Georgina Chapman has recently announced in her statement that she is leaving her husband for his unforgivable actions. The lady got married to Weinstein in 2007 and has two kids with him. After allegations against Weinstein mounted, Chapman broke her silence telling people that she is leaving Weinstein.
"My heart breaks for all the women who have suffered tremendous pain because of these unforgivable actions. I have chosen to leave my husband. Caring for my young children is my first priority and I ask the media for privacy at this time," Chapman said in her statement.
Marchesa did not respond to requests for comment Tuesday.
As fashion fairytales go, this one is a classic — for Chapman and Weinstein, to be sure, but also for Chapman and Craig. The pair has been best friends since they met as teens in a life drawing class nearly a quarter century ago at the Chelsea College of Art & Design in London, Elle magazine wrote in 2011.
The Marchesa origin story reads like this: The 41-year-old Chapman was an actress working as a costume designer in 2003 when she was spotted at a party in one of her own designs by the late fashion magazine editor and muse Isabella Blow, who urged her to focus on the art of evening dressing. Chapman and Craig were already considering a company of their own at the time, founding the brand in 2004, the year Chapman met Weinstein at a party in New York City.
Though they didn't date at first, the blog Jezebel noted Chapman's coming out on the arm of Weinstein at the 2005 Golden Globe Awards. Marchesa had already dressed Renee Zellweger for the UK premiere of "Bridget Jones: The Edge of Reason" in 2004 and Cate Blanchett at the premiere of "The Aviator," executive produced by Weinstein, that same year.
At the 2005 Globes, Diane Kruger wore Marchesa. She was starring in "National Treasure," produced by Disney, Miramax's parent company at the time, Jezebel reported.
Weinstein and Chapman have two small children, ages 7 and 4. After their marriage, they presided as a Hollywood power couple as Marchesa continued to feast on the fruits of Weinstein's celebrity connections. The axis on red carpets has continued through the years.
Marketing researcher Robert Passikoff, president of the New York-based consultancy Brand Keys, said only time will tell exactly how Marchesa does in the Weinstein fallout, especially among non-famous consumers as opposed to red carpet stars.
"When the house is still burning people comment about the flames and the smoke," he said. "A month later, when people are just looking at the ashes, they tend to forget about these things."
On the backs of celebrities, will craftsmanship win out over Weinstein influence-peddling that helped put Marchesa in the limelight? Angelina Jolie and Gwyneth Paltrow have lined up with numerous other women to allege mistreatment, first reported Thursday by The New York Times.
"He may have been the doorway in but the fact is the clothes make the women," Passikoff said. "It's ultimately how the designers behave in this situation that will have a greater effect than all of the stuff that he did."
Chapman's move toward divorce will speak volumes in that regard.
(With AP Inputs)