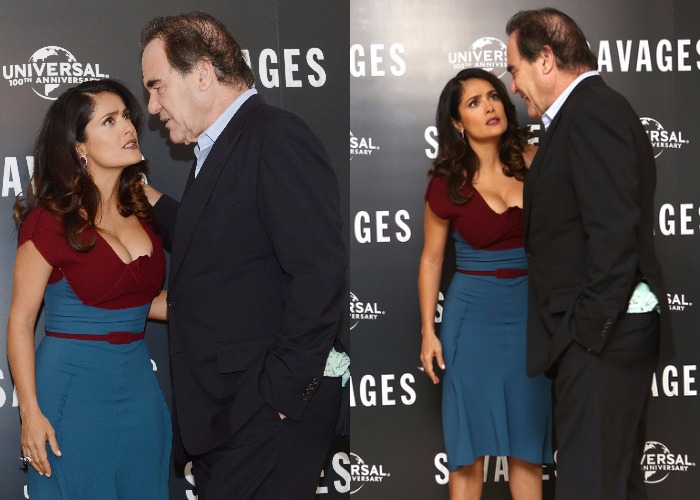 Bandidas actress Salma Hayek on Wednesday became the latest victim to voice out against popular Hollywood filmmaker Harvey Weinstein. She accused the filmmaker of sexual harassment and bullying. In an op-ed for the New York Times, she wrote, "for years, he was my monster," and revealed details on how he allegedly propositioned her again and again.
"With every refusal came Harvey's Machiavellian rage," she wrote. "I don't think he hated anything more than the word 'no.'"
But the audacity of Harvey Weinstein went way beyond just the demands for massages and sex. He was producing her dream project, the 2002 film Frida. She insisted the actress to include an unscripted sex scene with another woman, with complete frontal nudity. Hayek believed that giving in to his demands was the only way to get the movie done, since she was already five weeks into production. She was worried about disappointing all the talented people, including Ashley Judd, Edward Norton and director Julie Taymor.
The actress also claimed that the movie mogul threatened to kill her to keep the verbal abuse quiet, and said he would shut down production of 2002's 'Frida' if Hayek didn't perform a full-frontal nude scene.
Hayek said she fought to work with Weinstein's then-production company, Miramax, but after he said "yes" to working with her, it was her turn to "say no".
She wrote, "No to opening the door to him at all hours of the night, hotel after hotel, location after location, where he would show up unexpectedly, including one location where I was doing a movie he wasn't even involved with. No to me taking a shower with him. No to letting him watch me take a shower. No to letting him give me a massage. No to letting a naked friend of his give me a massage. No to letting him give me oral sex. No to my getting naked with another woman. No, no, no, no, no."
The actress wrote that she eventually gave in to an alleged demand by Weinstein that, "He would let me finish the film if I agreed to do a sex scene with another woman."
She wrote of being troubled the day of performing the scene: "It was not because I would be naked with another woman. It was because I would be naked with her for Harvey Weinstein. But I could not tell them then."
'Frida', a biopic of the Mexican painter and artist Frida Kahlo, was released wide in November 2002. The Julie Taymor-directed film, which featured a cast that included Ashley Judd, Antonio Banderas, Diego Luna, Alfred Molina and Edward Norton, went on to be nominated for six awards at the 75th Academy Awards, claiming two honors, for makeup and music.
Hayek was nominated for Actress In A Leading Role, but lost to Nicole Kidman ('The Hours').
After having to ask that the film be distributed in theatres, Hayek says that Frida gave Weinstein a "box office success that no one could have predicted."
Hayek said it wasn't until years later that the 65-year-old filmmaker told her, "You did well with Frida; we did a beautiful movie."
"I believed him. Harvey would never know how much those words meant to me. He also would never know how much he hurt me. I never showed Harvey how terrified I was of him," she concluded.
"When I saw him socially, I'd smile and try to remember the good things about him, telling myself that I went to war and I won," explained Hayek.
The actress' op-ed comes just months after a string of Hollywood A-listers, which include Gwyneth Paltrow and Angelina Jolie, claimed they too were sexually harassed by Weinstein, who has not admitted to any wrongdoing.
(With ANI Inputs)